Update: A Facebook spokesperson tells WebProNews, "This error isn't specific to any one account. It's generated when a person has been blocked a certain large number of times. In very rare instances, a viral campaign will develop instructing lots of people to all wrongly block the same person. The purpose of this system is to protect the experience for people targeted by these campaigns. We're constantly working to improve our systems and are taking a closer look at this one."
Original Article: Those concerned about privacy with regards to Facebook will love this. If you try to block CEO Mark Zuckerberg on the site, Facebook won't let you.
With most Facebook profiles, you can click "Report/Block this person" if you don't want them to be able to interact with you. Specifically, as Facebook says:

If you block someone, they will not be able to find you in a Facebook search, see your profile, or interact with you through Facebook channels (such as Wall posts, Poke, etc.). Any Facebook ties you currently have with a person you block will be broken (for example, friendship connections, Relationship Status, etc.). Note that blocking someone may not prevent all communications and interactions in third-party applications, and does not extend to elsewhere on the Internet.
The inability to block Zuckerberg was discovered by the creators of a site: blockzuck.com (via TechCrunch):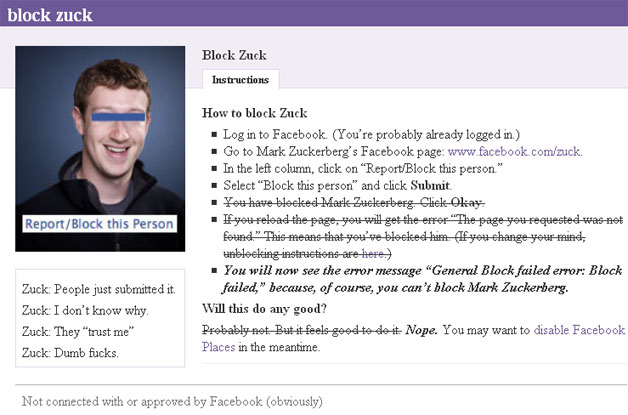 Sure enough, if you actually do try to block Zuckerberg, you get this message: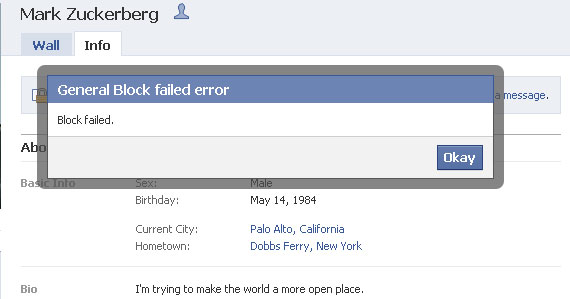 One can only imagine that even if you could block "Zuck", he'd be able to get around this if he wanted. Then there's the fact that its his site. Would you want people who have accounts on your site to be able to block you?