I have a question for you. Where do you get the majority of your online news? Is it from a feed reader? Is it from Twitter? Is it from Google News? Yahoo News? Do you spend your time simply checking specific news publications? There is talk that Facebook could become the number one place online for people to get their news.
Here's one for discussion. Facebook users can set up a news list, which will aggregate stories from different news sources who publish their stories to their Facebook pages. All a user has to do is be a fan of that page. Would this be any different than other news aggregators linking to stories? If a news source is willingly putting up a Facebook page with its stories, wouldn't that be the exact opposite of the argument against aggregators using content? Facebook serves its own ads too. Both the Wall Street Journal and the Associated Press have Facebook pages (hopefully they don't mind me linking to them).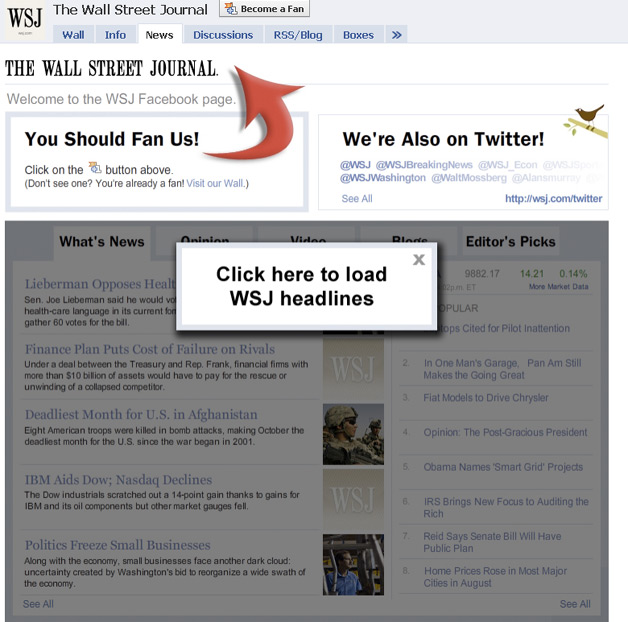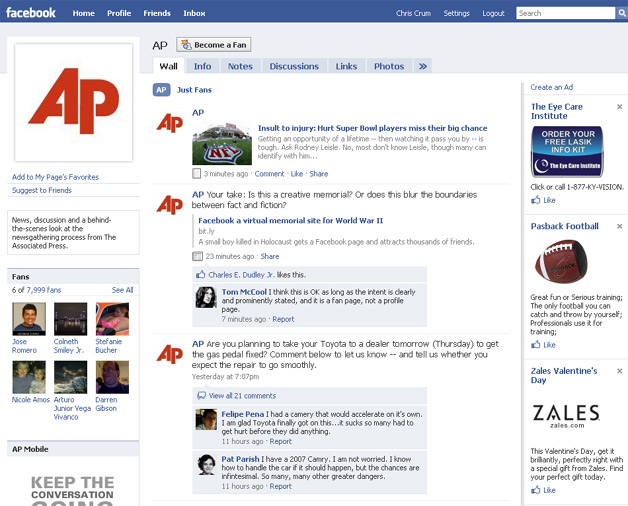 Sure, these publications have control over just what content actually appears on these pages. It's a bit different than Google or another news aggregator simply crawling the content, but how different is it really? The publications also have the power to block the aggregators. Is there a double standard?
Regardless of that debate, users are increasingly flocking to Facebook to get their news (news is also one of the most popular reasons for using Twitter by the way). The reason Facebook could be the biggest news source is that it has a massive user base – way bigger than Twitter's, and for all intents and purposes, it operates the same way when it comes to news (albeit, with room for more text in each update).
According to research from competitive intelligence agency Experian Hiwise, 3.52% of upstream visits to News and Media websites came from Facebook last week (that's compared to 1.39% from Google News.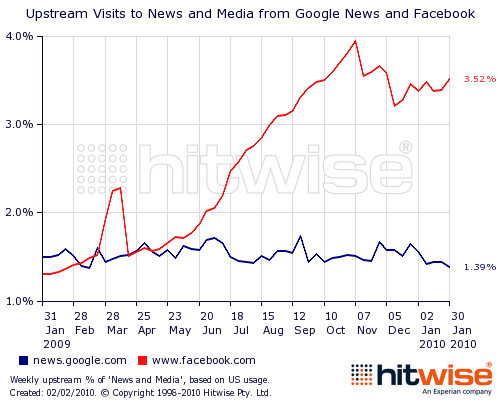 "Facebook was the #4 source of visits to News and Media sites last week, after Google, Yahoo! and msn. News and Media is the #11 downstream industry after Facebook, receiving 3.69% of the social networking site's traffic," says Experian Hitwise's Heather Hopkins. "To offer a comparison, 6% of downstream traffic from Facebook went to Shopping and Classifieds last week and 6% to Business and Finance and 15% went to Entertainment websites (YouTube in particular)."
"Facebook could be a major disruptor to the News and Media category," she adds. "And with the Wall Street Journal already publishing content to Facebook, perhaps the social network can avoid the run-ins that Google has suffered recently with Rupert Murdoch."
Lately Facebook has been encouraging users to set up news lists. They want to be your news source. "You can even create a 'News' list to filter news-oriented Pages into one view on your News Feed," noted Facebook's Malorie Lucich on the company blog. "Simply add relevant Pages to the list, just as you would with a friends list. The next time you sign on to Facebook, you can click the 'News' filter to see stories from all of the news outlets of which you've become a fan."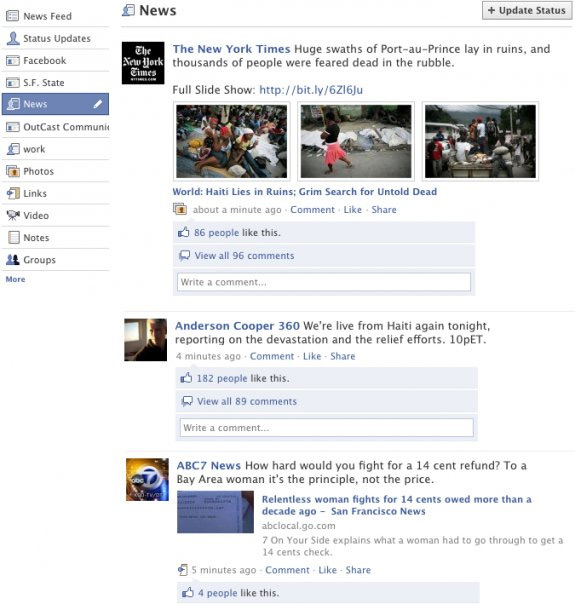 "In addition to reading news on Facebook, you can share news with your friends on external sites with Facebook Connect," says Lurich. "Outlets like The Huffington Post, The Washington Post, USA Today and countless blogs have become more social by adding Facebook Connect to their websites and iPhone applications. You can sign in with your Facebook login to see what articles your friends are reading and comment on articles with your authentic identity."
Facebook has a huge advantage for being the go-to place for news. Everybody is already there, and they're spending more and more time there checking their feeds, messing with apps, sharing their own updates, etc. If their news-news (Facebook refers to highlights from friend updates as the "news feed") is right in their feed, they're going to see articles frequently and get their news there almost inadvertently at times. Plus, if they set up an actual news list like Facebook wants them to, it's only a click away, and suddenly the average user gets to enjoy the same kind of functionality that users of RSS feed readers have been enjoying for years (they never quite made it to the mainstream did they?).
Do you use Facebook to get news? Can you see it becoming the most widely used platform for online news?

Related Articles:
> Mark Cuban Takes Murdoch-esque Stance on Google
> News Corp. Blocks Content from News Aggregation Site
> Do You Have the "Right" to Link?
> Murdoch On Blocking Search Engines: "I Think We Will"
> Murdoch's War with the Aggregators