The recent debt debates have been fertile ground for an explosion of Twitter activity from those involved. Both parties, both houses of Congress and the executive branch have all stepped up their Twitter-game in order to rally support for their beliefs about the debt and the national budget.
Last week the White House began a series of back and forth communications with its followers that they called "Office Hours." Every afternoon since July 26th, the White House Twitter account has opened up discussion. Users have been asked to tweet questions to different members of the National Economic Council using the hashtag #WHChat.
Last week, they scored quite a bit a publicity when they rickrolled a follower who said he was bored with all the economic talk.
Some interesting stats about all this Twittering have been posted to the official White House blog. And it looks like the "Office Hours" have given the White House a much larger presence on the site.
Since last Tuesday, over 100 questions have been addressed. During this time, the White House has gained over 22,000 followers – an average of over 3,000 a day. Before the #WHChat, they were only averaging 2,257 new followers a day.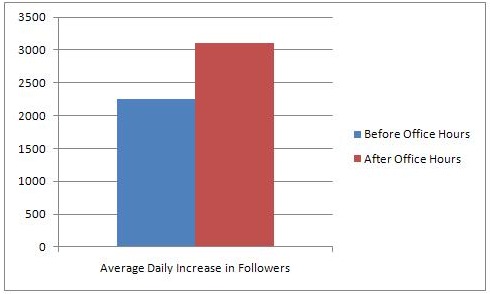 Also, the White House Twitter account is averaging over 5,000 mentions a day, up from just 900 before the office hours began.
According to the blog, tweets with the hashtag #WHChat generated over 33 million impressions "reaching an audience of nearly 10 million followers as of Friday, July 29th."
While the back and forth communication between the White House and Twitter users resulted in a increase in followers, Barack Obama's presidential Twitter account suffered a loss of followers after one of their Twitter offensives.
On Friday, the Barack Obama team sent out a flurry of tweets asking users to tweet at their Republican congresspeople to convince them to accept a "balanced approach" to solving the debt crisis. Many complained that the tweets were "spammy" and that account subsequently lost about 36,000 followers.
The White House has two more scheduled office hour sessions – one today at 4 pm EDT and one tomorrow at 4 pm EDT. Today, you can submit your #WHChat questions to Jason Furman, Principal Deputy Director of the National Economic Council.