There has been a wide range of interesting announcements coming out of Google I/O this week where WebProNews is covering the event.
What do you think has been the most interesting announcement from Google I/O so far? Let us know in the comments!
Update Google I/O
Google has launched Google TV, which is based on the Android platform and runs on the Google Chrome web browser.
Google TV expands video choice from the hundreds of channels available via a pay TV provider to a storehouse of video content available through the web and streaming video. Users will be able to watch streaming video from Netflix, Amazon Video On Demand, and YouTube.
Google TV features integrated search to allow users to find relevant content across over-the-air and pay-TV channel listings, DVR, and the Internet, as well as a picture-in-picture layout to access multiple windows simultaneously.

Google has introduced Android 2.2 (codenamed Froyo short for frozen yogurt). New Android 2.2 features include portable hotspot functionality, support for Adobe Flash within the Android Browser and a preview of an upcoming web-based version of Android Market.
"The growth of the Android ecosystem continues to exceed our expectations," said Andy Rubin, VP, Engineering.
"Every day, 100,000 new people start using Android-based handsets. There are now more than 180,000 active Android developers who have contributed over 50,000 apps to the Android Market. Froyo is another step toward making Android an even better platform for developers, enterprises and consumers."

Oringinal Article
Google Wave
Google announced it is making Google Wave open to everyone and dropping the requirement of an invitation. Google said Wave is now much faster to use and easier to navigate to unread parts of a wave. The company has also added permission management options and extension gallery to Wave.
Google App Engine for Business
Google launched its App Engine for Business, which gives organizations the ability to manage all apps in one place using the same infrastructure that powers Google applications. Google has also been working with VMware on cloud portability to make it easier for Java developers to use tools to develop and deploy rich web apps.
PayPal introduces Mobile Payments Library for Android
The Mobile Payments Library for Android allows people to make in-app purchases directly from their PayPal accounts, without having to leave the app. PayPal said this allows to developers to not have to store people's personal financial information, definitely a good feature for all parties involved.
Chrome Web Store
The Google Chrome Web Store will be available later this year and the company described it as an open marketplace for web apps. Google says the Chrome Web Store will make it easier for developers to reach a larger audience, which obviously means a chance to generate more revenue.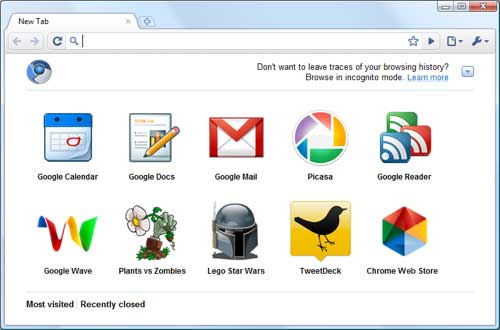 WebM Project
The announcement of the
WebM Project , a new open codec for web video with support from Mozilla and Opera, was well received.
Key features of WebM include:
VP8, a high quality codec with a BSD-style, royalty-free license
Vorbis, an open source and broadly implemented audio codec
A container format based on a subset of the Matroska media container
Preview of Google Storage for Developers
is a RESTful cloud service built on Google's storage and networking infrastructure. The RESTful API allows developers to connect their applications to reliable storage replicated across a number of U.S. data centers. Google Storage for Developers is currently open to a limited number of developers.
Are you excited about the news from Google I/O? Let us know in the comments!