Walmart has teamed up with the American Society for the Prevention of Cruelty to Animals (ASPCA) for a Facebook campaign aimed at saving and improving the lives of animals.
The campaign encourages Facebook users to visit www.facebook.com/lendapaw to support the ASPCA. Facebook users can click on the "Create a 'Lend A Paw' post button, and Walmart's pet suppliers, will donate $1 for each post (for a total donation of up to $100,000). All funds raised go to support the ASPCA's mission dedicated to the humane treatment of animals.
"Pet overpopulation, caused by far too many pets not being spayed or neutered — even by otherwise responsible pet parents — is a leading cause of unnecessary euthanasia," said Elysia Howard, Vice President of Marketing & Licensing for the ASPCA.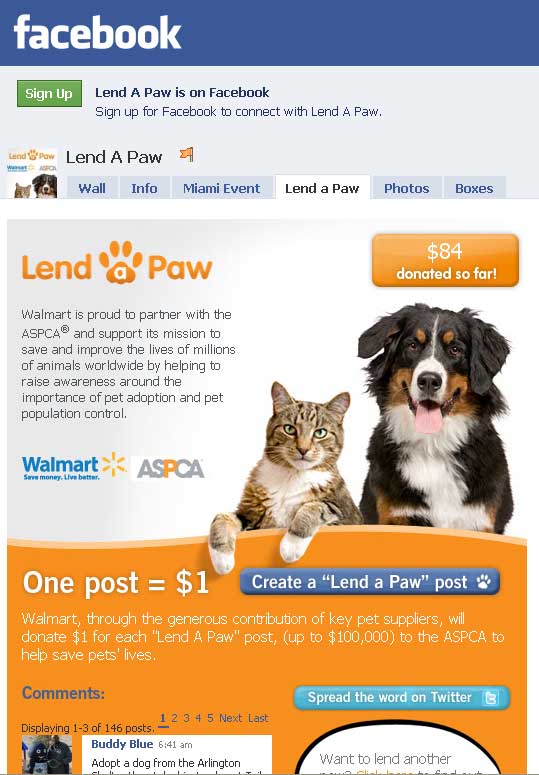 "In fact, half of all puppies and three-quarters of all kittens born are from unintended litters. Every dollar raised up to $100,000 through the 'Lend A Paw' campaign will help us get one step closer to our goal of helping pets in need. For example, $100,000 would help spay or neuter 1,000 animals."
According to the ASPCA, approximately five to seven million adoptable dogs and cats enter animal shelters nationwide each year. Of those 3-4 million are euthanized due to lack of space or resources to adequately care for them.