Back in December, Twitter announced that it began beta testing a new feature called Contributors. The feature is aimed at businesses, and gives them a way to allow multiple users to tweet under the company account, while displaying exactly who from the company is doing the tweeting, with a clickable name that directs the reader to that person's own Twitter account.
"The feature appends the contributor's username to the tweet byline, making the business to consumer communication more personal; e.g. if @Twitter invites @Biz to tweet on its behalf, then a tweet from @Twitter would include @Biz in the byline so that users know more about the real people behind organizations," explained Twitter's Anamitra Banerji in the announcement.

It appears that the feature is being rolled out to more businesses. MG Siegler spotted it on Salesforce's Twitter account within the last day.
As I've written about before, businesses have already been finding different ways to personalize accounts. For example, the WebProNews Twitter account (feel free to follow it) utilizes "@cotags" to sign Tweets. However, this practice requires adding characters to tweets, and sometimes every character counts. If you're trying to optimize your tweets for maximum retweeting (which can in turn drive traffic to your site), you want to leave as much space as possible for followers to add their own information.
Businesses have also been utilizing services like CoTweet, which lets users manage multiple Twitter accounts from a single dashboard. Through this, companies can manage the main account and employee accounts from one place. Salesforce appears to be using both CoTweet and Contributors at the same time.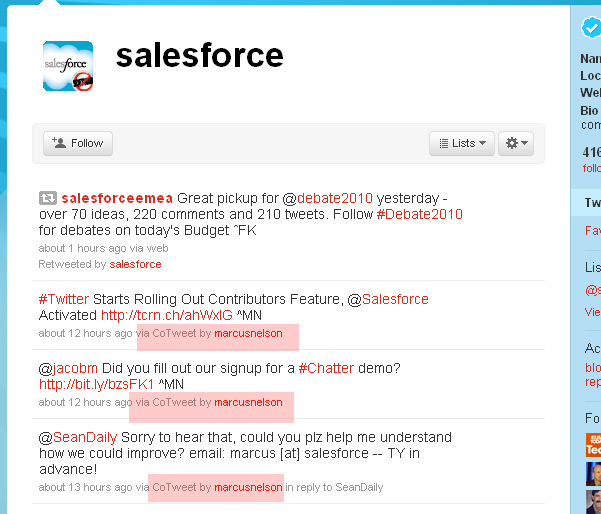 There has been a great need to make Twitter a more usable platform for businesses, given the service's obvious potential in a number of key business areas. This is probably why email marketing firm ExactTarget acquired CoTweet earlier this month.
Twitter has hinted at providing businesses with more useful tools for quite some time, and once it gives all users access to such tools, there may be a more unified format for how businesses use Twitter to engage with customers. Right now, it's kind of all over the board. Due to Twitter's openness (through APIs) and businesses' hesitance to change habits, Twitter's own tools may or may not become the standard. Keep in mind that many Twitter users never even go to Twitter.com, but access the site through third-party platforms. That said, I'm sure plenty of third-party apps will integrate the Contributors feature.