Target said today it will be the first retailer to sell Facebook Credits gift cards at all of its 1,743 stores and on Target.com beginning September 5.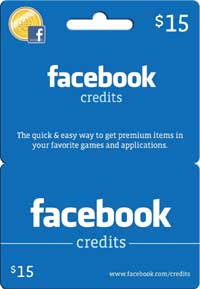 Facebook Credits gift cards will be available in increments of $15, $25 and $50. Facebook says its gift cards will be an "ideal gift" this holiday season for users who like playing games on the social network.
"One of Facebook's goals is to create a great place for games – both for people who love to play and the developers that create fun and engaging social experiences," said Dan Rose, vice president of partnerships and platform marketing at Facebook.
"Gift cards are easy to use and very popular. We're looking forward to launching in Target stores and giving people the ability to purchase Facebook Credits for their own use or to give as gifts to their friends and family."
More than 200 million people play social games on Facebook each month. According to Inside Network, Americans will spend more than $1.6 billion in 2010 on virtual goods and social gaming.
Facebook Credits are accepted by a number of popular games on the network, including Zynga's FarmVille and Mafia Wars; CrowdStar's Happy Aquarium; PopCap Games' Bejeweled Blitz; Playdom's City of Wonder; and EA SPORTS FIFA Superstars from Playfish.