One month before The Social Network lost to The King's Speech at the Oscars, it seems that a category of sites led by Facebook pulled off a big (and arguably related) victory in the UK.  Experian Hitwise indicated today that "Social Media" passed "Entertainment" in terms of visits.
You can see some of the data for yourself below.  Or if you'd prefer to deal in absolute numbers rather than percentages, Experian Hitwise determined that the Social Media category received more than 2.4 billion visits from UK residents in January, setting a record.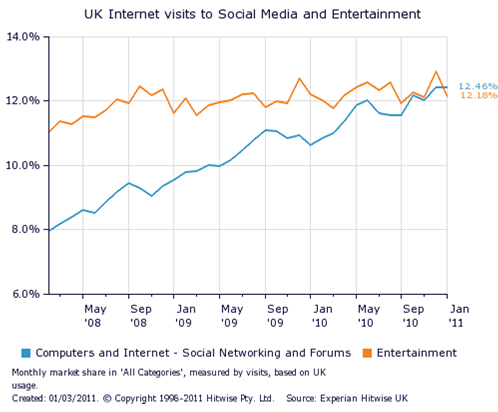 Otherwise, Experian Hitwise's Robin Goad added in a blog post, "In 2010 alone visits to the Experian Hitwise Social Networks and Forums category increased by 17%.  Not only are people visiting social sites more regularly, the time they spend on these websites is increasing, with the average session time spent on a social network in January 2011 being 22 minutes."
Then Goad wrote, "The range and diversity of social networks is also on the up.  Facebook may be the dominant social network in the UK, accounting for 56% of traffic to the industry during January, but social media users are rarely tied exclusively to just one social network."
Those are interesting trends that could bode well for any number of companies (Twitter, Groupon, or even MySpace or Bebo).  Advertisers are almost sure to respond by diverting more money into the social media space.
Of course, given that UK and US markets sank again today, changes in spending might not be all that wild anytime soon.