The results of last night's American Idol Finale may have been anti-climactic for some, as the Drudge Report reported hours before the show that his sources confirmed the country-crooner's victory, by an almost 2 to 1 margin.
But did Scotty McCreery's relative unpopularity on Twitter lead directly to his win?
According to the yap.TV app, runner-up Lauren Alaina was doomed from the start. The social media/Television linking application for the iPhone has been tracking what they call the "yap.Tv Pulse." They have been following Twitter conversations about the American Idol contestants during the performance shows and keeping tracking of positive, negative and neutral mentions.
On their blog, they state that they "have seen a consistent chasm between Twitter sentiment of show fans and the actual voting results." This "chasm" basically amounts to a "Twitter curse," if you will, that dooms the contestant that creates the most buzz on Twitter.
During the last month of American Idol competition, the curse has hit a prefect 4 for 4, accurately predicting the booting of the contestant with the most Twitter conversation surrounding them. And yap.TV's pulse results from Tuesday's performance show accurately predicted that Scotty McCreery would win, based on his lower Twitter chatter.
Lauren Alaina had more negative comments as well as neutral comments on Twitter. The two contestants had nearly equal positive sentiments.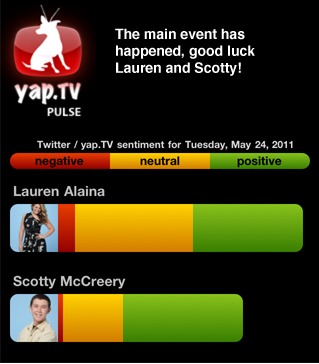 "We had originally thought that real user sentiment would track fairly closely to real voting results, but clearly there exists a discrepancy," says yap.TV.
And conventional wisdom would say that the more buzz about you, the more likely you are to receive votes. Is it possible that people spent too much time Tweeting about Lauren to vote for her? Could the demographic that regularly votes on American Idol not quite match up with the Twitter user demographic?
Popularity seems an accurate predictor when it comes to Facebook, as "like" analyzing startup Likester accurately predicted Scotty's win based on his edge in Facebook likes. Scotty has almost 400,000 likes, more than double that of Lauren Alaina.
Are you happy with the way the season played out? Is Scotty a deserving champion? Will he have success moving forward? Tell us what you think.