In the official blog post announcing the discontinuation of Google Wave, a Google exec claimed that the service had earned "numerous loyal fans." Now, in an effort to save Google Wave, they've banded together and created a special site.
The "Save Google Wave!" site can be found, appropriately enough, at SaveGoogleWave.com. It offers visitors the chance to express their support by giving the cause a virtual thumbs up, and a little over 20,500 individuals have done so to date.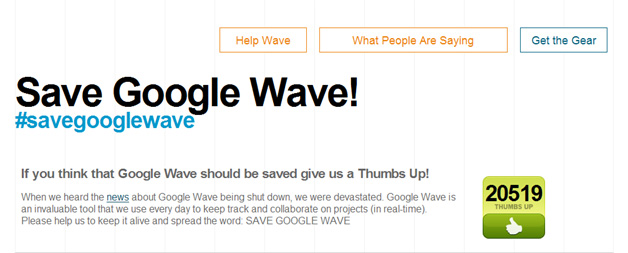 There are other mechanisms in place for supporting Google Wave and spreading the word, too, with a Twitter account up and running and "Digg This Site" and "Email Your Friends" options in place.
Finally, there's an interesting section of testimonials on the site, where a theoretical physicist, a software developer, and a teacher (among others) wrote about the value of Google Wave and how it should be saved.
This may not change Google's mind; it's hard to imagine that a company with a market cap of almost $160 billion will flip-flop because 21,000 people clicked a button.
Still, the "Save Google Wave!" campaign could at least convince Google to integrate elements of Wave into other products sooner rather than later. (And perhaps to do a better job of explaining and promoting the tech the second time around.)
A hat tip goes to Alex Williams, in any event.