WebProNews spoke to Eddie Krassenstein, CEO of Anonymous You, a new social networking site launching on Tuesday April 27th.
The site AY.com allows users to create profiles similar to other sites such as Facebook, but differs in that users leaving comments on a profile page are completely anonymous.
Krassenstein said he came up with the concept of AY.com "because there have been so many times when I found myself and my friends wishing we could answer questions or make comments anonymously." Krassenstein says being anonymous allows people to more easily provide truthful insight.
To create an account on AY.com users can login with their Facebook account, as well as post updates to their Twitter or Facebook streams when they add something to their AY stream.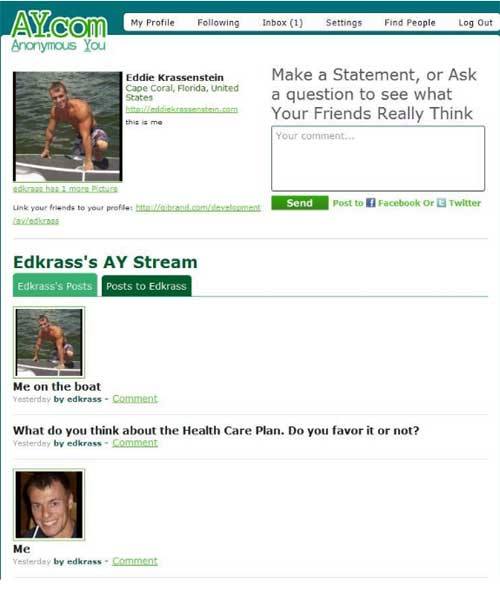 When asked if the site will be ad-supported Krassenstein said," once traffic to the site begins to pick up, we will most likely offer some sort of advertising. We have discussed many options internally, which include but are not limited to; banner advertising, in-user-stream ads, third party ad publishing, featured profiles."
Other options to monetize the site include the possibility of adding premium features to AY.com. Krassenstein said he would prefer the site to be ad supported, but allowing users to purchase premium features to add to their AY.com account is an option that will be discussed internally.
Krassenstein acknowledged there are other anonymous social networking sites out there like formspring.me that allows people to ask questions anonymously but the idea behind AY.com is not the same, although both sites involve anonymous users.