NBC is hoping to take advantage of the popularity of social media by launching a new program called "Fan It" which will reward users for liking its shows on a number of social networks.
Starting May 17 users can visit NBC.com/fanit and login with their existing MyNBC, Facebook, Twitter, MySpace and FourSquare accounts. Users earn points by watching videos of "The Office," chatting about "Undercovers" on Twitter, or liking "Community" on Facebook, and by getting their friends to click on NBC links.
As users earn points they will be able to cash them in for rewards including access to previews of new and returning shows, NBC merchandise, discounts at the NBC store, show-themed virtual goods and badges and entry into a s sweepstakes to win show-related prizes.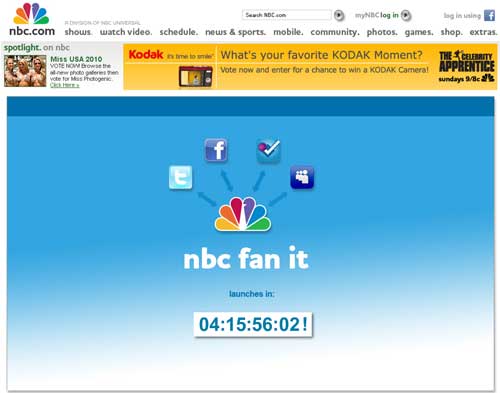 "What better way to spread the word about our shows then with the help of our loyal fans," said Adam Stotsky, President, NBC Universal Digital Entertainment.
"This innovative program creates a win-win opportunity – providing interactive and rewarding experiences, while at the same time broadening the reach of our new and returning programs by harnessing the power of social media."