During the next space shuttle mission, NASA will host two Tweetups to give people an up close look at the space program.
For the second time, NASA Twitter followers are invited to a view a shuttle launch in person at the agency's Kennedy Space Center in Florida. NASA is hosting the Tweetup May 13-14. Shuttle Atlantis is scheduled to launch at 2:19 p.m. EDT, May 14 on its mission to the International Space Station.
Once the mission has launched, NASA will host an additional Tweetup at the agency's Johnson Space Center in Houston that will offer a different view of mission operations.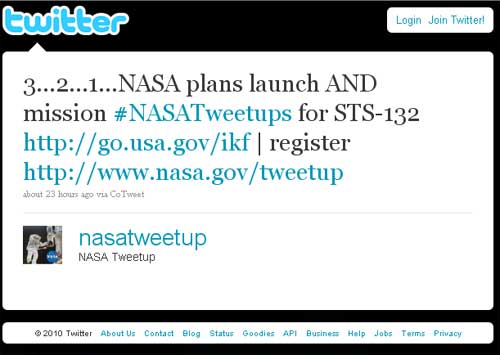 "We're inviting the public to share in the excitement of human spaceflight during one of the last three scheduled space shuttle missions," said Stephanie Schierholz, social media manager at NASA Headquarters in Washington.
"NASA is providing this behind-the-scenes access to give our Twitter followers an understanding and appreciation of all the work that goes into a successful shuttle launch and mission."
For the launch Tweetup May 13-14, NASA will randomly select 150 people from those who sign up on the Web. Registration opens at 10 a.m. on Monday, April 19, and closes at 10 a.m. Tuesday, April 20.