MySpace has introduced a global events and calendar offering users new tools to create, find, share and manage events across the site and multiple social networks.
MySpace Events organizes a catalogue of pop culture events and recommends concerts, sports, nightlife and the arts, allowing users to purchase tickets to events.
"Our users already post millions of events to MySpace each year and the events platform is the next step in enabling them to discover, create, and socialize around the events that are most relevant to them," said Jason Hirschhorn, co-president of MySpace.
"MySpace Events allows users to find events of every size from a local concert to the next Lakers game to Jay-Z's tour and then takes it a step further by providing the option to easily share the event and even purchase tickets."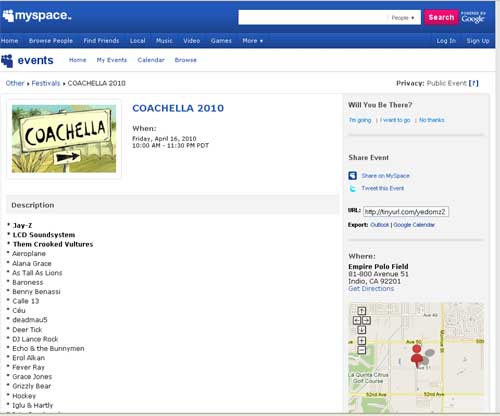 Users events will show up in their MySpace calendar, including their Facebook events (via Social Plan's previous Facebook Connect implementation). Users will also be able to share events on MySpace via the Stream, on Twitter, and tiny url.
"Ultimately our goal is to create a destination that allows users to manage their entire social calendar online through MySpace," said Marcus Womack, Director of Events and Ticketing for MySpace.
"Also, we're providing artists with advanced tools to help connect with fans and promote their shows while conversely enabling fans to quickly and easily discover, share and purchase tickets to those shows."