Microsoft announced its first wave of games for Windows Phone 7. These will be available at launch or shortly after, the company said.
Microsoft revealed the first 50 titles, some of which gamers will recognize, and others that are completely new. The company also said the games will be "closely linked" with Xbox Live.
"We're really approaching this as we would a console, so we have to deliver the breadth of games and the quality people expect from Xbox," said Kevin Unangst, senior director of PC and mobile gaming. "To have this quantity and quality of games committed this far ahead of launch, with even more to come, is a statement of support that says Windows Phone 7 will be a big success."
"Consumers clearly look to gaming as an expected experience on their mobile phone now, and we're going to take that expectation and that delivery up to a different level," he said.
Xbox Live users will be able to connect in different ways from their phones. They can update their avatar or keep track of their gamescore, for example. Several familiar Xbox titles will offer companion experiences on Windows Phone 7. Halo: Waypoint will be available on the phone, and there will be other games that offer variations on the console versions.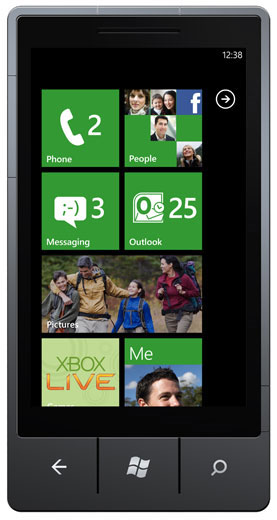 The company believes getting gaming right is crucial to Windows Phone 7's success. "Depending on how you measure it, games are one of the biggest application categories in the smartphone space," said Greg Sullivan, senior product manager with the Mobile Communications Marketing Group. "That's one reason we're so excited about the Game hub broadly and the Xbox LIVE integration in particular."
The games could help drive holiday sales for Windows Phone 7, and that's exactly what Microsoft hopes will happen. Games are one of the company's strong suits, and the Xbox connection could give the platform a much-needed push in the smartphone market right out of the box – possibly the search market as well.