Microsoft announced that it is rolling out some new features to Hotmail. These include: the ability to track packages referenced in your email from Hotmail itself, chat with Facebook friends, sharing photos more easily with expanded coverage and new features, viewing more videos from inside Hotmail, and organizing and finding important email with subfolders.
"Emails that include a package tracking number will now light up in Hotmail thanks to ActiveViews, which automatically recognize the number and display the real time shipping status above the email, saving you a trip to the shipper's website," explains Windows Live Hotmail Group Program Manager Dick Craddock. "The US Postal Service is fully supported, and with this new release, our new partner FedEx will be as well, with light versions for DHL and UPS that provide a link to the shipper's website instead of full shipping details inside the email."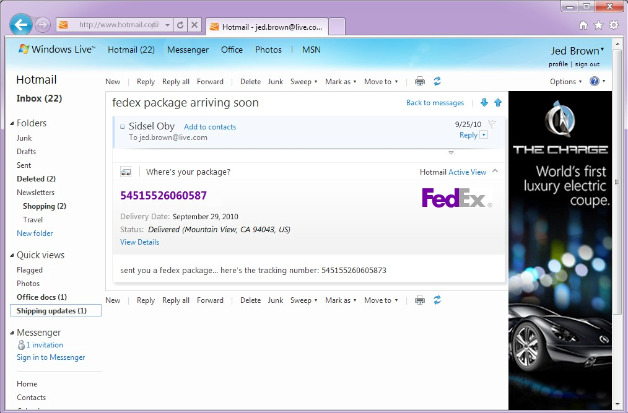 Hotmail's photo-sharing features are rolling out from only the U.S. to the rest of the world. "Email is the most popular place to share photos, with 1.5 billion pictures shared each month on Hotmail alone," says Craddock. "But attachment size limits have long made the process cumbersome. Over the summer, Hotmail became the first service to let you to send hundreds of large photos per email, up to 10 GB of photos per email, by sharing them as a new photo album on SkyDrive. Today, this option is only available in the US, but with this release, we are rolling it out worldwide."
Microsoft is also increasing the total attachment size limit per email to 25MB. As far as viewing video, Microsoft is now including videos from Dailymotion and Justin.tv. Before it was just YouTube and Hulu.