Google has launched a phone gallery to display Android devices that "deliver the best Google experience today". The gallery can be found at google.com/phone. You may recognize the URL as the former destination of Google's failed phone store.
"Here at Google, we're thrilled with the global adoption of Android and with the high quality of devices that are coming to market around the world," says Android product manager Ben Serridge. "Since there are so many great phones, we wanted to make the selection process a little easier for people who are in the market for a new one."
"All the phones in the gallery include Android Market, Google Search, and other Google Mobile services such as Gmail, Maps, and YouTube," adds Serridge. "There are tools that make it easy to compare phones side by side: you can filter phones by country, manufacturer, and carrier; view and compare technical specifications and features; and find where each phone is available for sale."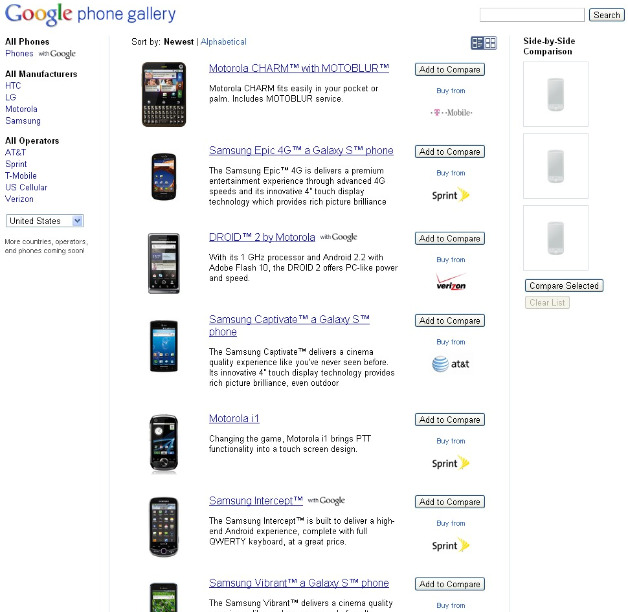 The gallery includes models from HTC, LG, Motorola and Samsung from AT&T, Sprint, T-Mobile, US Cellular and Verizon. When Google said it showcases phones that deliver the "best Google experience", I thought it would eliminate discontinued models that would would never see FroYo, but the Droid Eris is on there, so that doesn't seem to be the case.
Google says it will continue to add phones and countries over time as new phones come to market.