If you had any question about whether or not Facebook can be effective for e-commerce, you might be interested in new data the company has shared with us regarding the time period from Black Friday through Cyber Monday.
"This holiday season, shoppers are calling the shots," Jillian Carroll of Facebook's Corporate Communications tells WebProNews. "Companies such as Amazon, eBay, Sears, and Levi's are rethinking online shopping by adding social context with the Like button and other Facebook integrations. While newer sites like Etsy, Yardsellr, Bing, and Kembrel are building entirely new social shopping experiences."
If you have an online shop, there's a good chance you have some kind of Facebook presence and/or integration on your site, whether that's the inclusion of like buttons, Facebook Connect, or just having a Facebook Page. Chances are even higher that you will this time next year.
"Since last holiday season, more than 1/2 of the top 25 retail sites have integrated with Facebook (comScore)," says Carroll. "17 of the 25 fastest growing retail sites are integrated with Facebook."
"On Black Friday, there was more than 6x the number of status updates related to retail purchases as the previous Friday," adds Carroll. "Referral traffic to the most active retailers on Facebook increased 70% over the period from Black Friday through Cyber Monday."
Just between Black Friday and Cyber Monday, Levi's saw a 2x increase in the amount of likes and comments on their site, according to Facebook. The most-liked products during that period included 501 Original Jeans – Dark Stonewash (M), Bold Curve Boot Cut – Night Streak (F), and Regular Straight 505® Jeans – Dark Stonewash (M) if you're interested.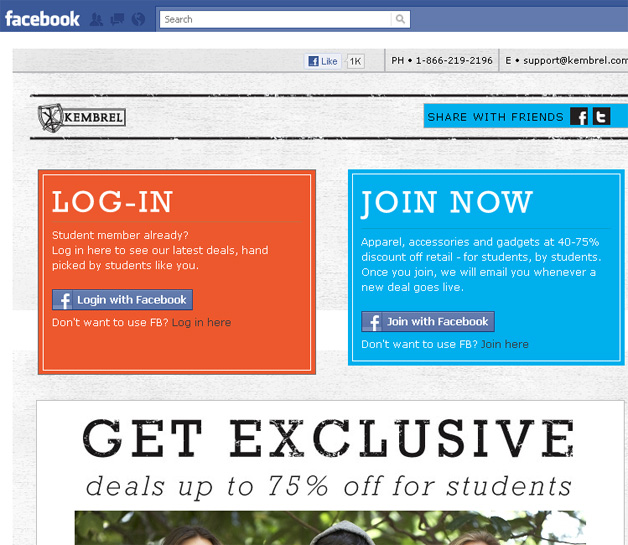 Kembrel, a private store for students that can be accessed entirely through Facebook, all the way through the checkout process, saw 20% of its overall transactions come through its Facebook store from Black Friday through Cyber Monday. Transactions from their Facebook store are 7-10% bigger when compared to their site, according to Facebook. 55% of new, registered shopers are being acquired through Facebook. Pretty impressive.
We're likely to see more businesses following Kembrel's model of letting customers go through the entire shopping process directly on Facebook. Look for Facebook to turn itself into one of the standard payment methods in the not-too-distant future. This should fuel e-commerce directly within Facebook, while also potentially having a significant impact on it externally.
Related:
Facebook E-Commerce: What Online Retailers Have Been Looking For?
The Dawn of Real Facebook eCommerce