Facebook has become the most-visited social network on the mobile web, according to Opera's State of the Mobile Web report.
Unique users of Facebook grew more than 600 percent during 2009, helping the site surpass Russian property VKontakte, formerly the most popular social network among Opera Mini users. Twitter saw its usage increase more than any other social network, jumping more than 2,800 percent in just one year.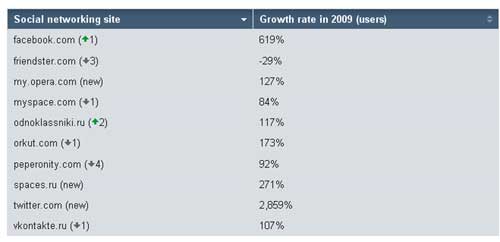 In December 2009, more than 46.3 million people used Opera Mini, an 11 percent increase from November 2009 and more than 159 percent compared to December 2008. Opera Mini users viewed more than 20.7 billion pages in December 2009. Since November, page views have increased 10.1 percent.
"Fortunately the divide between the mobile Web and the Web accessed on PCs is now disappearing," said Jon von Tetzchner, Co-founder,Opera Software.
.
"People want to use the same sites, regardless of whether they use a phone or PC to access those sites. The success of Facebook and Twitter among Opera Mini users shows that consumer habits do not change even though their devices do."
Related Articles:
> Facebook Page Owners Getting More Stats
> Facebook Gets Into Customized Data Centers
> More Reporters Using Facebook And Twitter For Story Research