Word around the Web is that Facebook will be announcing its long-awaited location feature today. While this has still not been confirmed, a mysterious account appeared on Twitter today, for @FacebookPlaces.
Kim-Mai Cutler at InsideFacebook has a screenshot of a tweet from this account, which claimed to be the official account for "Facebook Places". The tweet read, "It's true. Watch out for the Official announcement scheduled to begin at 4:30pm PT / 7:30pm ET".
However, if you go to the account now, you are greeted with a message from Twitter saying the account has been suspended. Still, Cutler says the account was followed by numerous Facebook employees.
Facebook did recently release a video channel called Facebook Live. This is a place where users can view Facebook events, so I'd be checking out that around 7:30 eastern if you're interested.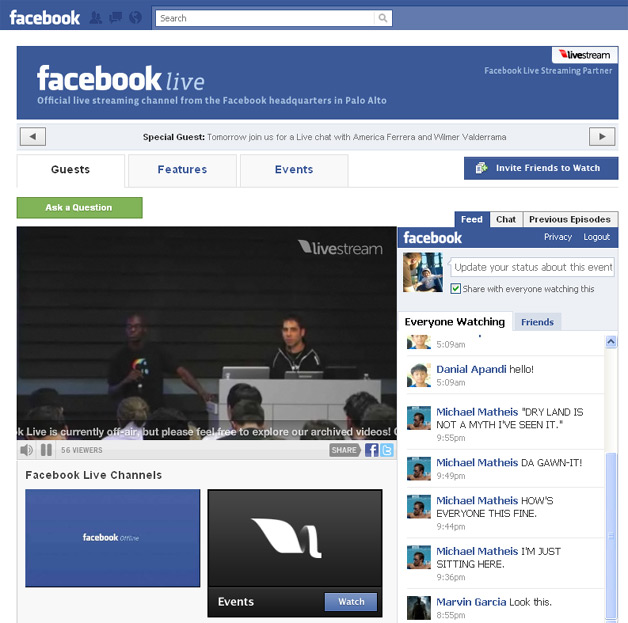 WirelessWeek points to a survey from JiWire indicating that many consumers are willing to reveal their location data in exchange for more relevant advertising. Even still, given Facebook's track record for privacy issues, it's almost guaranteed that privacy will come into question around an location-based release from the company, whether or not concerns are justified.
Auto Suggest for the Status Box
While I don't appear to be getting this feature, Mike Melanson at ReadWriteWeb reports that Facebook has begun automatically suggesting links to Facebook Pages, Groups, interests, and other users, from a drop-down list of suggestions as you type in the status box.
It's unclear whether this is a feature that is rolling out to everyone or simply a test.
In other Facebook news, it was announced today that the company, along with Tata Communications, has joined the Messaging Anti-Abuse Working Group. "Our deep commitment to site security requires the development of robust technologies and active engagement with organizations like MAAWG. We look forward to collaborating with the entire working group to aggressively fight messaging abuse."