At this point, most businesses have probably come to the realization that they are missing out on some serious opportunities if they do not have a Facebook presence. Facebook is showing that it will keep growing, despite all of the recent privacy concerns capturing the media's attention, and more and more sites across the web continue to get integrated with Facebook, which means Facebook is becoming more and more integrated into people's online activity in general. While this in itself means great things for businesses, Facebook is now offering businesses new tools to better understand data around user engagement with their brands so they can take advantage of it and better monetize their Facebook presence.
Will you place more focus on Facebook marketing with better analytics? Let us know.
Facebook has now made significant improvements to its analytics for websites, applications, and Pages. This means businesses have increased insights into how people are engaging with their Facebook presence on and off their sites.
Improved Analytics
The improved analytics come in the form of the new Insights Dashboard, which shows data for fully-integrated sites and sites that use Facebook's social plug-ins. You can also add a non-integrated domain. In addition, the Dashboard displays data from application, including canvas, mobile, device, and desktop apps. Finally, it displays data around Facebook Pages – those created on Facebook itself, and those that are part of Facebook's Open Graph.
To put it into simpler terms, you can view analytics around specific stories that people "like" on your site, or how many users commented on posts made on your Facebook Page. "From there, you will have a better idea of what your audience finds most interesting and capitalize on that content," says Facebook's Alex Himel.
The dashboard has been around for a while, but now it contains more data, as well as new visualization tools. You can view graphs in full screen, print them, or save them. Facebook has also released a new demographics visualization, which shows more info about the audience that is interacting with your site, your Facebook Page, or your app if you have one. Obviously, this can be of tremendous benefit to your marketing efforts.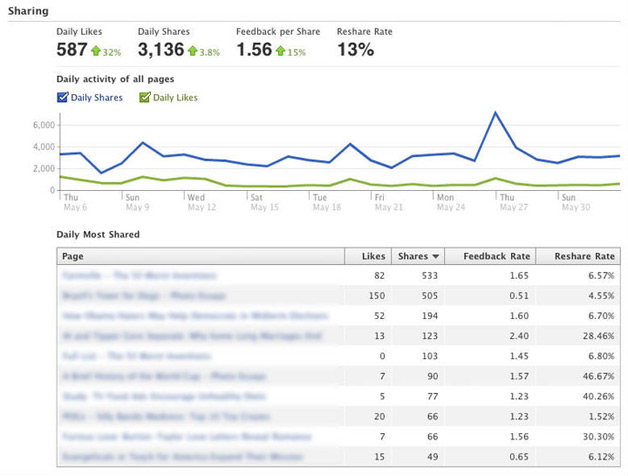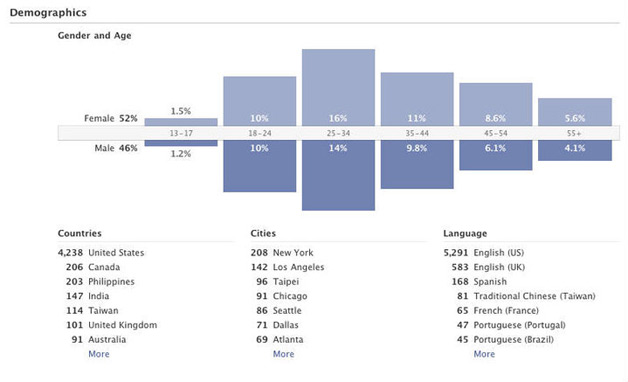 "As a domain administrator, you can now access sharing metrics and demographic information per domain and per URL so you can optimize your content for sharing and better tailor your content to your audience," says Himel. Of course growing your audience brings new opportunities for monetization.
Important Info for Webmasters
Site owners should associate their domain with a user ID, Facebook app, or Facebook Page that they administer. This can be done by clicking the green "Insights for your Domain" button on the dashboard and adding the meta tag that is generated within the <head> tags of the root page on the domain. Note that if your site utilizes subdomains, the root file of each one must be claimed separately.
"If you administer a Facebook Page or have integrated the Open Graph protocol into your Web pages, you can now see analytics for referral traffic and stream stories in the Insights dashboard, as well as tab views for your Page," says Himel. "Insights will capture engagement with Pages regardless of whether an action was taken on or off Facebook."
The Bigger Picture
One of the biggest gripes businesses have had with social media, is a lack of measurement. Clearly, Facebook is doing more to tackle this problem, and Facebook is obviously the social network that gives businesses the potential to reach the largest amount of people. Recent estimates have Facebook with close to 500 million users.
It also doesn't hurt to keep in mind that Facebook is evolving, and rapidly at that. It is already competing with Google for unique visitors (which really equates to mindshare during time spent online). Some may consider such a comparison apples and oranges, but there may be more to it than that.
Facebook's share of the search market, while much smaller than Google's, has been on the rise. Eli Goodman of comScore has a very interesting post about Facebook's potential in search that makes you think. It looks at the evolution of search behavior, and how Facebook could play into that, capturing user intent via the social graph. Here are a couple of brief excerpts:
…consumers have learned to adapt their searching behavior to reflect the increased specificity the results will convey. This change in behavior enables them to inch closer to a result that reflects the true, original intent of their search. But increasingly there is new information available on the web — especially as it relates to one's social graph –that offers potential for even greater specificity; one that filters results through the people, and not just the pages, of highest relevance to you.
…
Facebook must improve their ability to relate your search results, on the first page, to you as an individual. Search engine algorithms do their best to deliver you relevant results based on all of the people that searched on similar terms as you, but Facebook has the unique position with which to analyze your personal relationships and further differentiate results. The Facebook display advertising targeting features are quite impressive, considering factors such as your latest updates, your "likes" and those of your friends…but its ascension as a search property will be directly impacted by its ability to do this same sort of qualitative analysis of you and your entire circle and customizing the search results accordingly. Being that they partner with Bing in order to deliver the web search results, it puts Bing in a strong position from which to innovate using an incredibly large and yet closely personal data set.
Nobody's saying that Google is significantly threatened by Facebook, in terms of search market share in the immediate future. Facebook would have a long way to go to achieve this (if they even want to). However, increased Facebook usage could only mean good things for Bing as long as that partnership is in tact. That's beside the point though.
This is about looking at the big picture, and just how big of a role Facebook plays in that. Facebook may mean more to search marketing going forward than we even realize yet. Either way, it clearly plays an increasingly large role in online marketing in general, and the more data that businesses can get around their Facebook efforts, the more that will likely grow.
WebProNews is in Seattle for SMX Advanced this week, and we will be bringing you coverage from that. Do not be surprised if Facebook marketing comes up more than a few times. Stay tuned for articles and videos.
What do you think of the new data Facebook is offering? Will it help you with your marketing efforts? Tell us what you think.