"President of Time Warner Global Media Group" is an impressive title. "Senior Vice President of Time Warner" isn't bad, either. But the titles (and accompanying salary) apparently weren't enough to keep Mark D'Arcy at the organization, as Facebook's managed to lure the high-ranking exec away.
Geoffrey A. Fowler broke this story by reporting that D'Arcy will join Facebook as its "director of global creative solutions to help boost the appeal of the social networking service's ad offerings."
Then Fowler continued, "In the newly created role that he will begin in early May, Mr. D'Arcy will be responsible for leading a team charged with developing ideas for how advertisers can use Facebook in their marketing campaigns."
That's a smart move on Facebook's part. After all, in a general sense, most marketers now accept that brands should have a presence on the social network, and many do. Only organizations tend to run out of steam after setting up a Facebook Page, just making the occasional update about a sale or changed hours of operation.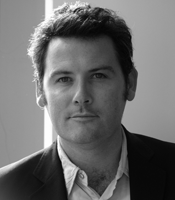 Also, more specifically, D'Arcy should be a good person to give pointers. His Time Warner bio states that he "spent 15 years as an award-winning writer and creative director in advertising." Also, he's "a member of the International Academy of Digital Arts and Sciences, serves on the Ad Council's creative review committee and the Board of Trustees for the Museum of the City of New York and the Independent Filmmaker Project."
D'Arcy will remain in New York rather than move closer to Facebook's headquarters in Palo Alto.