Although not directly related, a new development has added a layer of complexity (and perhaps humor) to the Google/China/censorship mess. Chinese President Hu Jintao has signed up for an account on what appears to be the state-run equivalent of Twitter.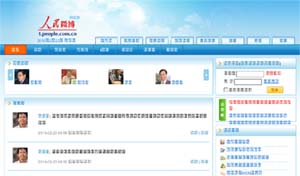 The relationship is not quite a direct one. The People's Daily is the official newspaper of the Communist Party of China, and the microblogging site in question is owned by the paper, not the Communist Party. Still, no one's claiming that the connections don't exist.
So on to some other details. According to Peter Foster, President Hu's official account attracted about 17,000 followers during its first day in existence. Over 1,000 people commented on it, as well, which goes to show that the Chinese people are interested in social media.
Here's the catch(es): President Hu (or even a PR staffer representing President Hu) has yet to post anything on the site. And some comments are being deleted, implying that this doesn't herald some new era of openness and free speech in China.
Meanwhile, it seems worth noting that posts have been made on both the BarackObama and DowningStreet Twitter accounts today.
UPDATE: In a follow-up article, Foster wrote, "Mr Hu's account . . . has disappeared from the site after what appears to have been a blunder by the webmasters at People's Daily. I imagine a pretty furious enquiry is under way as it now seems that someone automatically activated all of the 'VIP' microblog accounts on its 'Strong Country' forum which included President Hu because he'd registered with the site as part of his online forum 'chat' with the public back in 2008."