Borders has launched a new "Textbook Marketplace" that allows users to buy and sell new and used textbooks.
The Marketplace features more than 1.4 million titles including a selection of used textbooks at a savings of up to 90 percent. Users can also earn cash via the site's used textbook buyback option.
"College students spend nearly $1,000 each year on textbooks according to some estimates. That's a sizable financial burden for students and families, especially in this challenging economic climate," said Borders CEO Mike Edwards.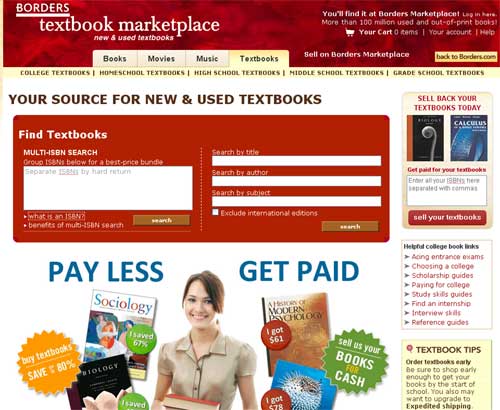 "As a retailer that provides education and inspiration to millions of customers on a daily basis, we couldn't be more pleased to offer a huge array of textbooks at great prices to help students advance their education."
Borders says the Marketplace was created in partnership with online book retailer Alibris and features college, high school, middle and elementary school textbooks as well as other titles often used in classrooms. The site also features textbooks for home schooled children. Books are searchable by title, author, subject and ISBNs.