WebProNews recently spoke with Layar's augmented reality strategist Gene Becker about the present and the future of augmented reality. Layar thinks AR will become essential to consumers' mobile experiences.
Ogmento is a an augmented reality gaming company that says it's helping to change the way consumers interact with their smart phones. Ogmento recently released an iPhone game called Paranormal Activity: Sanctuary (based on the popular movie franchise), that combines augmented reality, geo-social elements and user-generated content – an interesting combo. President and co-founder Brian Selzer shared some more insights on the industry with us.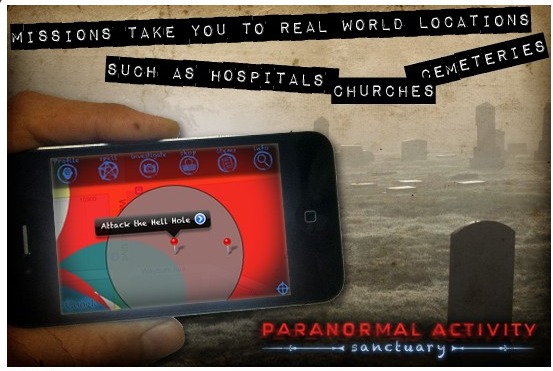 The company says it has created the first game that combines geo-social elements and computer vision augmented reality to physically "check in" to a location. For example, if the GPS is saying that the user is standing near a Starbucks, and the phone's camera is looking at a Starbucks logo, then a special reward will open for the players. This reward is proof that the player is, indeed, where they say they are, the company explains.
The user-generated content comes in as users can draw out symbols on a piece of paper and have them come to life on their iPhones.
"The combination of AR (computer vision) with LBS (location-based..) has been called the holy grail by some in marketing," Selzer tells WebProNews. "Applications like Foursquare and Gowalla currently rely on GPS to verify where a user is. This is not accurate, and users can check in to 100 places from their couch. People are rewarded for not even going into the actual locations. With AR, it's an extra verification that a person is actually there, because it's about vision. The camera can recognize a logo, or a sign, and that along with GPS makes for a much stronger connection. AR also allows users to interact with brands.. mixing real world and virtual world gaming experiences. The engagement is much stronger. So now mobile marketing is about understanding where people are, what they are doing, having them interact with their brands, reward them for these interactions, all in the real world. The dynamic nature of our games allows us to create campaigns on the fly. for locations, time of day, and much more."
"AR is about computer vision… seeing, understanding and interacting with the real world around us," he says. "A traditional mobile game is not inherently mobile. It does not think about LBS, or interacting with the people, places, things around us. With AR, we turn the real world into the game experience. This is a fundamentally different approach to gaming, and will only grow as the technology advances."
"LBS is already catching on quickly," says Selzer. "Our belief is that LBS, plus great game mechanics, plus AR will make the mix much more powerful though. LBS will likely go mainstream without AR, primarily because the tech is still very nascent. As the sophistication of mobile computer vision advances though, LBS apps will take on an entirely new level of usefulness."
As tablets are becoming hot ticket items, we asked Selzer how big of a role this emerging market plays in the growth of augmented reality. "Tablets will be great for table top based AR," he says. "You can imagine a family around the table, viewing mixed-reality games, the same way people play board games. It will be great to experience AR on these larger platforms in the real world too, but the practicality of holding them up for any length of time is just not there. Truly, the smartphone and tablet are just a gateway to what everybody in mobile AR wants, and that's hands-free goggles. I'm looking forward to the day when we can stop holding up devices in front of our face, and just naturally experience an added digital, contextual layer on the real world though a set of well-designed eyewear."
This idea echoes something Layar's Becker told us: " In the longer term, we all like to envision a world where we have immersive displays that you can put on just like a pair of sunglasses, and then suddenly the entire world can be sort of continuously augmented with information all around you."
"It's early, and true AR is hard," says Selzer. "We are seeing a lot of great new AR experiments and early games on a regular basis now. The buzz and expectations are high. Some see it as a fad, because they are judging the current state of AR and saying, 'yeah, it's cool, but so what?' It's about the 'wow-factor' of seeing mixed reality right now. In a couple years it will be more about having a deeper level of engagement with people, places, things in the real world… to add another layer of content onto the real world which is contextually tied to what you see. When AR apps show that they truly understand what they are looking at on a consistent basis, that's when AR will become mainstream. For now, it's very cool, very fun… and perfect for gaming and marketing folks."
Currently, Ogmento only works for iOS, but Selzer says the company is "platform agnostic". iOS is just their first platform. The company is already developing for Android, and says it will continue to move onto other platforms, other mobile devices, portable gaming devices, PC, and perhaps even console. "Basically any platform that has cameras, sensors, and supports Augmented Reality experiences is being looked at," he says.