Apple was expected to introduce its Multi-Touch Magic Trackpad when it announced its earnings last week. That didn't happen, but they have introduced it today along with updates to the iMac line.
The iMac line has been updated with the latest Intel Core i3, Core i5 and Core i7 processors and new graphics. Apple says the line is the fastest ever with dual-core processor speeds up to 3.6 GHz, quad-core speeds up to 2.93 GHz and "discrete" graphics including the powerful ATI Radeon HD 5750.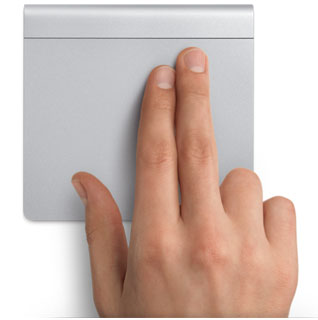 The trackpad has a smooth glass and aluminum design, and provides Multi-Touch gestures not unlike those from Mac notebooks. It is available separately for $69.
"We took the world's best all-in-one and made it even better," said Philip Schiller, Apple's senior vice president of Worldwide Product Marketing. "With the latest processors, high-performance graphics and signature aluminum and glass design, customers are going to love the latest iMac."
Apple says the Trackpad enables users to scroll smoothly up and down a page with inertial scrolling, pinch to zoom in and out, rotate an image with their fingertips and swipe three fingers to flip through a collection of web pages or photos. It can be configured to support single button or two button commands and supports tap-to-click as well as a physical click.
The iMacs run the Mac OS X Snow Leopard operating system. More details about various versions can be found in the announcement.