Computer and video game use is widespread with 67 percent of American households playing, according to a new report from the Entertainment Software Association.
The report found a social aspect of game play with 62 percent of gamers reporting they play with other gamers in person at least one hour a week and 48 percent of parents said they play with their children at least once a week.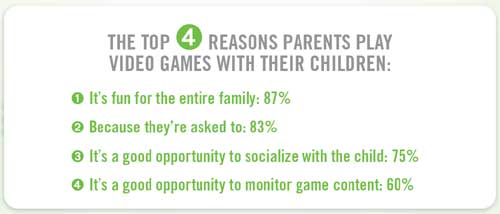 "Computer and video games are now available to consumers on every screen from smart phones to computers to flat screen televisions. This enables millions of Americans to enjoy the immersive storytelling, incredible graphics, and compelling plot lines," said Michael D. Gallagher, president and CEO of the ESA, the trade association representing U.S. computer and video game publishers.
"These works of art are a fun and engaging way to bring people together, especially families who are playing video games together now more than ever."
Other findings of the report include:
*The average game player is 34 years old and the average game buyer is 40 years old
*40 percent of game players are female
*48 percent of games sold are rated "E" for everyone
*76 percent of parents believe that parental controls available in all new vide game consoles are useful
The report also found that parents continue to have a high level of involvement in their children's video game play. Parents who have children under 18 with a gaming console in the home said they are present when games are purchased or rented 93 percent of the time, and children receive their parents' permission before buying or renting a game 86 percent of the time.