Three out-of-five Americans who consider themselves somewhat politically active are members of a social network, and 70 percent indicated they expect to vote in November, according to a new survey by HCD Research conducted on behalf of the E-Voter Institute.
Four out-of-five potential voters expect candidates to have a website, half expect candidates to participate in social networks and provide webcasts of events, and 41% expect candidates to use Twitter.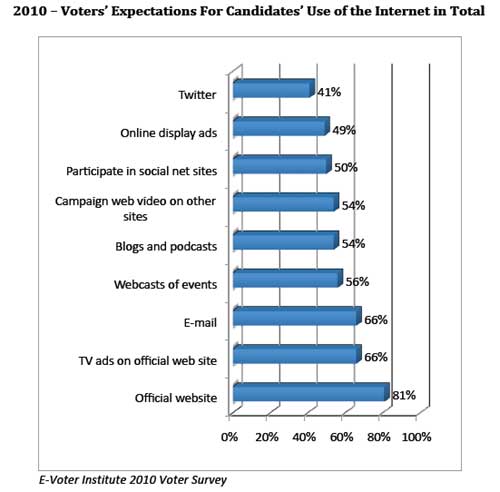 The survey found two-thirds of voters want to see the candidates' television ads on the official website of the candidate, and 54 percent expect campaign video on other sites such as YouTube.
"There are few differences between Republicans, Democrats and Independents when it comes to their expectations of Internet use by candidates," said Rich Berke, vice president, HCD Research.
"More telling are differences in the levels of computer skills among the various voter sets."
The survey also found that traditional methods such as television ads, direct mail and phone banks are effective for attracting the attention of voters, they are not very effective for keeping their attention. In contrast, websites, social networks and emails are more useful for keeping the attention of voters over time.
In addition, 40 percent of voters reported that the official candidate website is an effective way for keeping their attention, while 46 percent said that television or cable ads are effective for keeping them interested.
"In addition to more sophisticated websites, in 2010 we are seeing the emergence of Twitter, mobile text messaging and social media usage across all age groups," said Karen Jagoda, president, E-Voter Institute.
"In light of our evolving mobile culture, these are convenient and effective methods for engaging voters in campaign initiatives. The value of these vehicles must be recognized by candidates and advocates in order to maximize the use of their campaign resources."