Call of Duty: Modern Warfare 3 doesn't come out until November 8th, but the buzz surrounding the new shooter from Activision has already begun. The reveal trailer was just released last week to controversy surrounding some Brits' fears that the gameplay may hit a little too close to home. And now we've been given a sneak peek at the upcoming Call of Duty Network, called "Call of Duty Elite."
Elite promises to build a social network around the popular games, accessible on the web and via mobile devices. The Beta testing for the network will begin this summer.
In short, Call of Duty Elite is a large network that ties the entire Call of Duty community together, across all platforms. The first aspect of the service involves stat tracking. Kill/Death ratio, specific weapon statistics, specific map performance stats, class stats, leaderboards, career XP earnings, global rankings, I'm sure you're getting the picture. The "Career" aspect of the network will keep all your stats, beginning with last year's blowout hit Black Ops.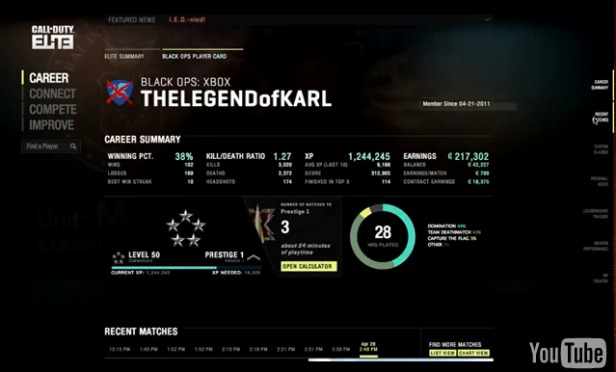 Black Ops and even Modern Warfare 2 to a certain extent offered limited stat tracking, but nothing this centralized, extensive and easily connectable with others.
The "Connect" aspect of Elite is the way to organize your online multiplayer experience. Users can create and join "groups" and "clans." Groups are more public, and Clans more selective and private. This seems to be an expanded version of the Call of Duty clan tag system, where you can attach yourself to other users based on interests.
Once you connect and form clans and groups, you can use the "Compete" function to play tournaments versus other clans and groups. The rewards will be trophies for display within the Elite Network as well as real life prizes like a Black Ops Jeep and others TBA.
Other functions of the Elite service include map performance analysis and highlight clips, which should be familiar to Black Ops players.
Elite looks to be a giant community for the tens of millions of Call of Duty players worldwide. A Facebook of pwning n00bs, if you will. Much of the service will be made available for free, but it looks like there will be a small fee for the premier version of Elite. It will likely include additional maps and other exclusive content.
So will Elite take off? You bet your ass it will. Even if the service ends up costing people extra, they will pay it. First, because people are crazy of COD. Black Ops is the top selling game of all time. Second, because Elite looks like it will do something interesting: make a game into a game.
For many gamers, beating the game or succeeding in online multiplayer isn't enough. Hence Xbox 360 achievements and PS3 trophies. Extensive stat tracking adds a whole new layer to the experience. And real clan battles organized for prizes, either virtual or real, will make COD players giddy. People are serious about COD, and Elite looks like it is truly for the serious gamer.