Yahoo has partnered with Ram Truck on branded country music site called "Ram Country on Yahoo Music."
Its the first time Yahoo Music has launched a dedicated country music site. "Ram Country" is aimed at helping Ram Tuck reach country music fans online and is the largest online marketing initiative for the brand.
The new site will feature a mix of music, blogs, news coverage, and original video programming produced by Yahoo. "Ram Country" will be promoted across the Yahoo network.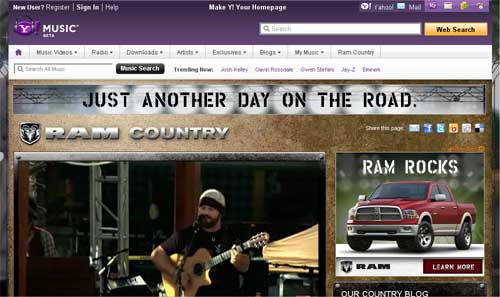 'Ram Country' showcases the best of online marketing and programming by providing relevant and entertaining branded programming at mass scale," said Jeff Bronikowski, head of Yahoo! Music.
"Country music represents an ideal platform for Ram Truck to reach its target audience and build brand loyalty. It is this type of personalized, content-rich programming that allows Yahoo! to be the center of people's online lives."
Yahoo will produce reality-based video for the site including:
*Going Home, a docu-reality series featuring a country music artist in his or her hometown.
*The Studio, a program in which a country artist performs and is interviewed in the "Ram Country" Studio.
*Music With a View, a scaled-down acoustic performance series that takes place outside in a natural setting.