Yahoo launched two new mobile search apps today. The first one is Sketch-a-search, an app that was unveiled at a Yahoo search event event earlier this year, and the second one is the Yahoo Search iPhone app.
If you're unfamiliar with Sketch-a-search, it allows users to simply draw a ring around an area on a map, and find local businesses in that area. Yahoo's Ariel Seidman says:
What do you do when you're looking for a restaurant in a certain area or section of town, and you don't know the name of the neighborhood, or even its ZIP code? Now with the Sketch-a-Search app, you can draw a circle around the general area on the map — around the San Francisco waterfront, let's say — and voilà, restaurants appear. If you click on the restaurant results, you can read reviews, browse photos, check prices, and lots more. You can also refine your sketch search by types of cuisine, ambiance, or ratings to find a place that best matches what you are looking for. Today, you can find restaurants across the United States; we plan to launch additional local categories on an ongoing basis and extend to international markets in the near future.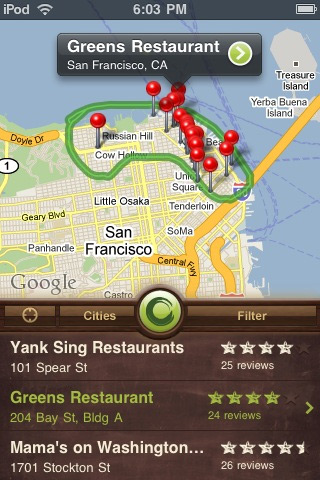 It's interesting that Yahoo chose to launch this with Google Maps, which is presumably utilized because Google is the default search engine on the iPhone, and this is an iPhone app (no word on possible availability for other platforms).
The other app, the Yahoo Search app for iPhone, integrates voice search, embedded maps, and info from Yahoo Finance, Movies, News, and other sources that appear directly in the results.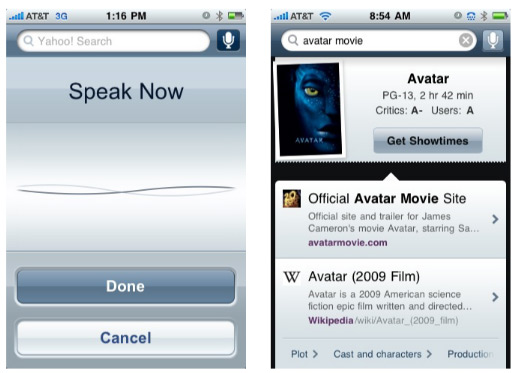 "Since mobile searchers tend to ping-pong back and forth between map applications and search, we've integrated maps into the app to simplify the experience," says Seidman. "The app also allows you to customize the local maps experience: Want to see more map and fewer local results? More results and less map? It's totally up to you. Until now, neither the search engine nor the map gave consumers exactly the experience they're looking for. Our new app is pretty nifty — give it a try and you will know what we mean."
Yahoo has also included location-based local results (you think location's playing an increasingly important role in search?).
Both apps are now available for free download in Apple's App store. The Yahoo Search app is available in 22 countries, and will eventually make its way to other locations.