The World Wildlife Fund (WWF) has launched what it calls the first, nonprofit gift catalog on Facebook today.
WWF's Gift Center on Facebook allows users to make a donation and pick a symbolic animal adoption from a list of more than 100 animals. Animal adoptions and all other items from the gift catalog, are connected to Facebook's "Like" and "Share" features, allowing users to create virtual "wish lists."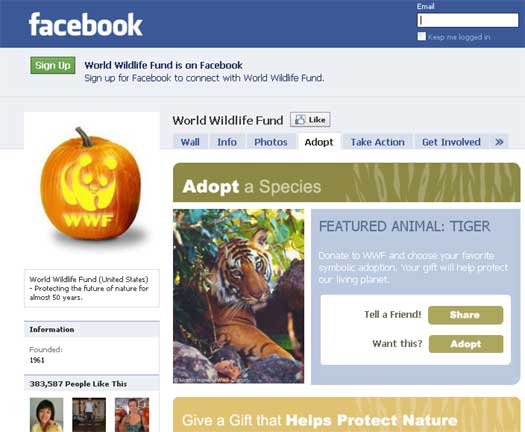 "We are offering our members and other supporters on Facebook a unique opportunity to support WWF's conservation work while demonstrating to friends and family their commitment to protecting our planet's most amazing wildlife and wild places," said WWF's chief marketing officer, Terry Macko.
"Our new Facebook Gift Center is an innovative way to educate and fundraise and it allows people to have fun by giving, getting, 'liking' and 'sharing.'"
All symbolic adoption donations made through the gift catalog come with a formal adoption certificate, a color photo of the adopted species and a description card. Adoptions of $50 or more come with a a stuffed animal of the adopter's choice and are shipped free in the U.S.