Nearly three-quarters (73%) of online women are now active social media users, engaging weekly or more often with popular social media platforms, according to a new study from BlogHer and iVillage.
The study found women rely heavily on both blogs and message boards when seeking advice and recommendations (Blogs: 21% of the total U.S. online population, 63% of the BlogHer Network; Message Boards/Forums: 38% of the total U.S. online population, and 92% of the iVillage community), especially when looking for information to help with the purchase of new products (Blogs: 22% of the total U.S. online population, and 59% of the BlogHer Network.)
BlogHer users are more active with the top three social media platforms vs the average woman online (Blogs, Facebook, Twitter). In addition blogs are only second to online search as the preferred media source for product purchasing information for BlogHer Network users.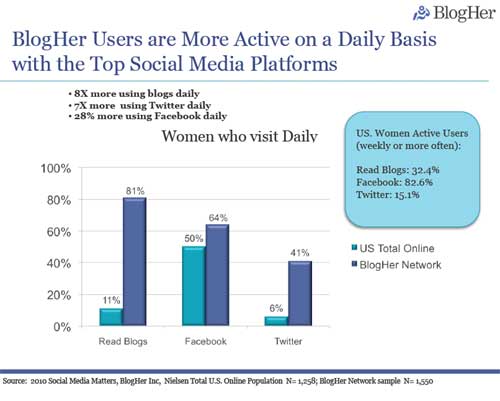 "The twenty million users who visit the BlogHer Network favor blogs over every other media source for reasons both personal and pragmatic," said Elisa Camahort Page, BlogHer co-founder and COO.
"Even as the scale of overall social media usage continues to grow, blogs continue to be a highly reliable resource for all women online as they exert their control over the household purse strings."
Other highlights from the study include:
*Among the iVillage community, 73 percent say they are sharing topics on message boards/forums that they would not share on social networks. Of those, relationships (61%), health (45%) and work-related (39%) issues were the main topics they would not share on social networks.
*Message boards/forums are second only to conversations with friends and family as the preferred source of product purchasing information for iVillage users.