While the NCAA Men's Basketball Tournament has hit its second week — Sweet 16, ya'll — also known as the time the casual fan checks out and mainly the purists are left paying attention, that hasn't stopped some entities from trying to capitalize on the popularity of March Madness.
Take eBay, for instance.
To celebrate the 2011 Tournament, eBay has released shopper data related to team memorabilia that's been purchased. From there, the team with the most revenue spent was then projected as the tournament winner. In this case, say hello to the Ohio State Buckeyes, winners of eBay's data crunch. According to the auction house, Ohio State had over $170,000 worth of memorabilia sold, while the second place team, the Florida Gators, was a closer runner-up with $162K worth of sales. Rounding out the "Final Four" of eBay's data crunch are the Duke Blue Devils ($127,000), and the Kentucky Wildcats ($111K).
Oddly enough, three out of eBay's four are still alive. Unfortunately for Duke, they ran into a freight train named Derrick Williams and were summarily bounced from the Tournament. As for eBay, they released a graphic of the data crunch findings, complete with every team in the Sweet 16 segment of the tournament: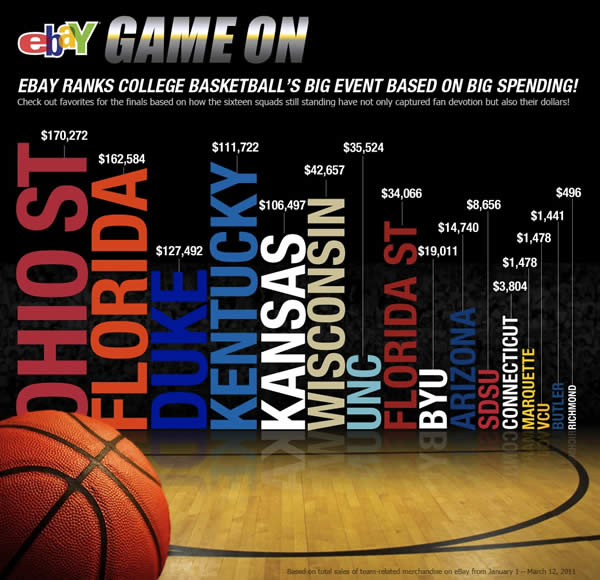 According their report, the most purchased memorabilia item was shot glasses. Clearly, people want to imbibe a little when their team is playing — or even mentioned, apparently. Foam fingers were a close second to the shot glasses, reports eBay, because those are two great tastes that taste great together, obviously. I mean, who doesn't like getting smashed at a sporting event and then waving foam fingers at everything moving? Isn't that a national pastime in and of itself?
The report goes on to reveal that the most expensive item bought during this crunch session was, "a 2011 Men's Big East Basketball Tournament- All Sessions ticket package, for which one lucky fan paid $13,600." Not sure if "lucky" is the right adjective there, but I digress.
Perhaps the oddest thing, at least to this contributor, has to do with the title of eBay's report, "eBay Data Predicts Winner for College Basketball's Big Event." Ah, the struggle with the term "March Madness." You can't use the phrase to promote products, so eBay got a little hamstrung with the title. Clearly, we don't need the name of the NCAA getting sullied, they do a good enough job of doing that themselves, and using "March Madness" in promotion materials would ruin the trademark. At least, that's what the NCAA thinks.
Forget about how such an association would only help further promote the NCAA's basketball tournament that much more. I mean, it's not like phrase association — that is, people associating a phrase with the intended product — is good thing for businesses, right?