MySpace has a new design for the user home page, which is available today on an opt-in basis, but should be rolled out completely by August 19th.
MySpace tells WebProNews, "The new user homepage prominently displays the activity stream and simplifies the content discovery experience. As users log-in to MySpace, there is a prompt to opt-in for an early look at the new homepage."
"This is a first in a series of changes that you'll see designed to simplify the organization and display of content to benefit our users."
Clearly an emphasis on the news feed has worked well for Facebook, so it's not surprising to see an increased focus on it from MySpace. The only surprise is that it has taken this long. While, the feed has been there for a while, it has not exactly been pushed too hard by the company.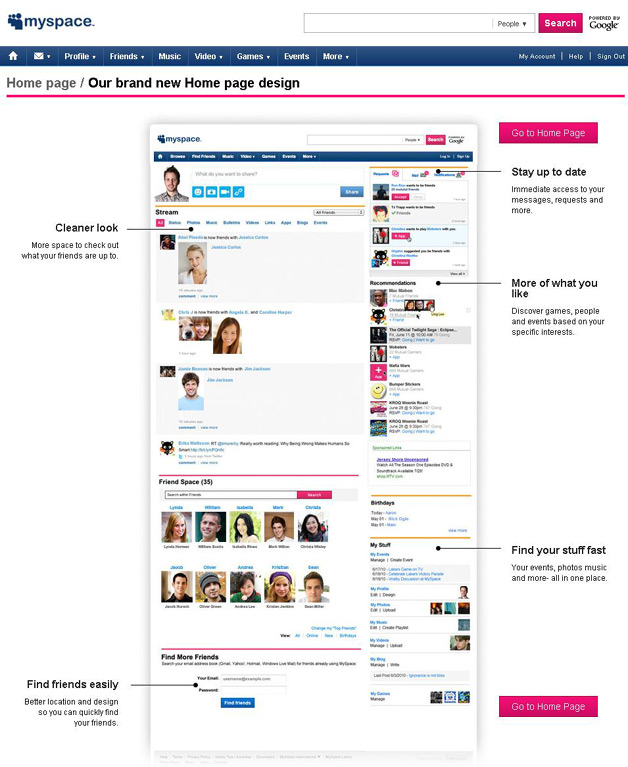 There are various other sections on the sides pointing to things like games, movies, events, etc. MySpace highlights the new features:
A wider activity stream: The stream now spans the first two columns, featuring shared content and status updates from friends across your network. With this new design, we're placing more of an emphasis on all of our great content by really making it pop from the moment you sign-in.
My Stuff and Recommendations: The new "My Stuff" module gives you quick access to photos, videos and music right from the homepage. Similarly, all recommendations (Featured Games, People You May Know, and Recommended Events) have been combined into one simplified "Recommendations" module.
New alerts system and address book importer: The new alerts system collects similar alerts and repositions them in a more visible and persistent location, enabling users to browse and interact with their alerts without ever leaving the UHP. A new version of the address book importer will help users find and connect with friends more easily.
A week ago, Marshall Kirkpatrcik at ReadWriteWeb obtained access to a link showcasing a MySpace experiment that looked to be kind of Digg-meets-Facebook type news feed. He described this: "The way the feature appears to work is that a MySpace editorial team, along with algorithms and business partnerships with trusted 3rd party content sources, will curate a stream of photos, videos and highlighted quotes. MySpace users can vote those bits of content up or down, comment on them, click through to the destination site (after an annoying interstitial page) to see the full content or most importantly subscribe to news topics (like Britney Spears) and get future updates delivered into the same news stream that their friends' updates appear in."
It remains to be seen if this kind of functionality will be included in MySpace's plans (that's why it's an experiment), but it doesn't sound like it's part of the initial redesign.
The real question is, does it matter? Is MySpace in a position to win back some of the social media enthusiasm it once had that has clearly gravitated towards Facebook and Twitter. MySpace does still have a lot of users, but from general conversation with people, it's clear that a lot of "users" are using it less and less. Will this provide a fresh spark for MySpace? What do you think?