Facebook gave the web a lot to chew on with the announcements it made at its F8 developer conference this week. Essentially, it comes down to Facebook consuming/connecting more of the web. For more about the announcements, read this. Now it's time to think about what it all means for businesses, and fortunately, it probably means good things. Mike Lazerow, CEO of BuddyMedia, a social marketing company that helps develop Facebook pages for about 200 brands, such as ABC, American Express, NHL, Playboy, Mattel, Geico, Samsung, and many more big names, shared some commetary about Facebook's news with WebProNews.
How important is Facebook to your online success at this point? Discuss here.
When you look at just the announcement of Facebook's social plugins, you can already see some obvious benefits. Facebook has over 400 million users (probably well over that by now), and by including these plugins on your site, you're providing a direct link for them to share your content with their friends, or simply to share their fondness of your brand, and this information will not not only go to Facebook itself, but has the potential to appear in other places on the web that are part of Facebook's "Open Graph" (see this Yelp/UrbanSpoon example). Facebook has also changed the "become a fan" button on Pages to "like". Now consider Lazerow's points:
– "The shift from 'Become a Fan' to 'Like' will decrease the friction and perceived user commitment to connecting with a brand as a fan. Every time a consumer will click 'Like' on a third-party website, that information will be published back to the user's Facebook news feed and profile and will appear in search results."

– "The common Facebook user has an average of 150 friends and each 'Like' will increase a brand's exposure to the friends of that user, ultimately increasing the number of connections the brand has."

– "The social plug-ins Facebook launched will infuse third-party websites with the personalized social context and social functionality of Facebook, such as commenting, liking, sharing and posting. For the first time, news feeds of social activity will live not just on Facebook, but will be extended to third-party websites."

– "Facebook and Zynga [the company behind Farmville and Mafia Wars] have shown us that users like to see what their friends are doing. By surfacing the 'friend' information on their own websites, brands will be able to make their properties more engaging and increase usage."
A representative for Appssavvy, a direct sales team for the social media space, tells WebProNews Facebook's announcement "changes everything," and that "change is good."
"Facebook isn't just a destination or platform moving forward, it truly is becoming a provider of social communication tools for the entire Web," the company says. "Facebook is going to make the entire Web social, thus a social Web means an entirely different way of thinking about advertising and marketing."
As of right now, Facebook has 8 Social Plugins to choose from, but Facebook says the "like" button is the most important: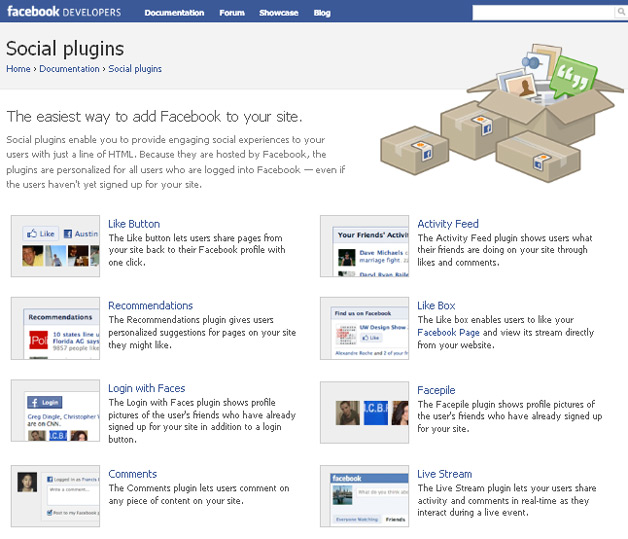 The average Facebook user is going to be incredibly used to seeing these like buttons all over the web, and they're not going to be shy about clicking them for items and brand that they actually do like. Non Facebook users are going to see them and get accustomed to seeing them on a lot of their favorite sites, and this may lead some of them to eventually join Facebook. Facebook CEO Mark Zuckerberg said in his keynote, though laughing as he said it,the people who aren't on Facebook "probably will be soon."
There have already been tremendous opportunities for businesses with Facebook, but now that much of the web, for all intents and purposes, is becoming part of Facebook. As Scribd CEO Trip Adler told me during a phone call this week, people are likely going to begin sharing things passively, as opposed to actively in many cases. People are not going to think twice about "liking" a piece of content that they genuinely like. Then all of their friends can see it, possibly check it out, and possibly "like" it themselves, and pass it on to their friends. It not only provides a means for word-of-mouth, it will drive it. That will in turn drive traffic.
It's worth noting that there is only a "like" button and not a "dislike" button. That means all word-of-mouth that spreads from it will be positive. It's also worth noting that you will have to give people something actually worth liking for any of this to be effective.
Are you going to participate in Facebook's web? Let us know.