It's not very often that something like Weinergate comes along. I mean, come on – A U.S. Representative named Weiner tweets pics of his wiener. For the internet, that's just making it too easy.
Let's not get buried in the politics of the whole thing. Sure, Anthony Weiner was pressured into resigning for a sex scandal that didn't actually involve any sex. It's a fair question to ask why a congressman has to resign for actions that didn't break any laws. It's also fair to suggest that elected officials are held to a higher standard of conduct and they know that going in. And politicians from both sides of the aisle have weathered worse sex scandals than this without resigning – Republican Senator David Vitter was caught with hookers and he's still around. Former President Clinton had affairs with anything that moved and he served two terms.
But I digress. The internet perfectly encapsulates all that is terrible, sad and hilarious about Weinergate. And in light of his resignation from congress yesterday, I thought we would wrap up the whole Weiner thing.
I'm sure we can all agree that with headlines like "Obama Beats Weiner," "Weiner: I'll Stick It Out," and "Fall On Your Sword, Weiner" the NY Post wins the clever headline contest. There have also been some gem story titles online. Some of the best –
Congressman Wants Weiner Probe (Fox Nation)
Mounting Pressure on Weiner (CNN)
Boehner Won't Bite on Weiner (CNS News)
Anthony Weiner's Junk Defense (Daily Beast)
Weiner: I'm Sorry I was a Little Stiff Yesterday (FOX)
The Anthony Weiner Mystery: A Tough News Package to Handle (Time)
Celebs and Twitter stars are still talking about Weiner. Here are some of the top tweets:
Before Weiner's resignation yesterday, leaked texts, Facebook messages and emails went public in a big way. On his HBO show Real Time, Bill Maher performed a dramatic reading of the communications with Glee star Jane Lynch. The results are what you'd expect – it's incredible. It's also NSFW (we are talking about sexts here).
During his actual resignation conference, Weiner was heckled by a large group of individuals – some sincerely angry and others looking for a laugh. It turns out that one of those hecklers was The Howard Stern Show's Benjy Bronk. He's been talking about it on Twitter, making sure we know that he wasn't the guy shouting "pervert." He asked the congressman other interesting questions. The heckling video and Bronk's tweets are below –
Even after all of this, Weiner still has one huge fan – Hustler's Larry Flynt. He has offered the embattled congressman a job with his company. He tweeted this late yesterday –
The link takes you to The Huffington Post, where Flynt has written an open letter to Weiner, offering him the job. He makes it clear that this is in no way a joke. Flynt cites Weiner's "intensity and perseverance" and says he would make a "valuable asset to the corporation."
This offer is not made in jest. To show our sincerity, Flynt Management Group, LLC is willing to pay twenty percent more than your former Congressional salary, ensuring that your medical benefits would be equal to what you were previously receiving. While you will have to relocate to our corporate offices in Beverly Hills, California, we would pay for all relocation costs.

While this employment opportunity is being offered in large part due to your qualifications and clear passion for making a change, I feel that your unfortunate resignation is a prime example of unfounded political pressure and the hypocrisy that has invaded democracy in Washington D.C. I hope you will sincerely consider this offer, and I look forward to your response.
It has also been rumored that the HBO show Entourage reached out to Weiner to make a cameo on the upcoming season, to play himself. Entourage producer Doug Ellin told CNN that the rumor is untrue.
The mememakers have also had a blast with Weiner. Here's a quick selection of the best. The first mixes the scandal with another prominent sex scandal. The second shows "the face" every politician makes when he has to admit his scandal. The last is the latest someecard, arriving just in time for Father's Day.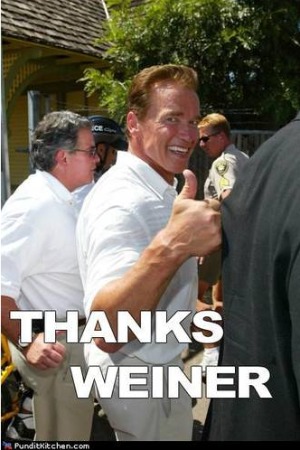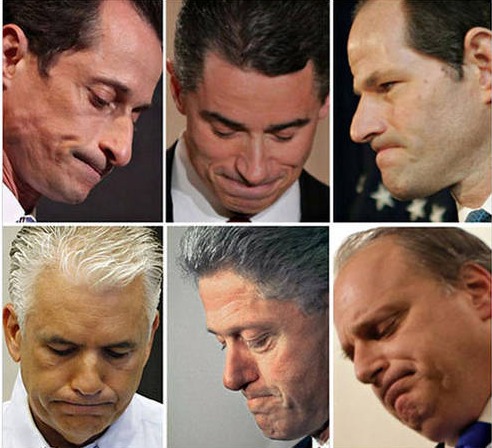 The whole Weinergate thing kind of puts a bad taste in my mouth. While it's undeniably some of the easiest comedy to fall into anyone's lap in ages, we have to remember that Weiner and his family are human beings. Yeah, he messed up, but things like the heckling at the press conference make me feel bad for the guy. It's no surprise to me that Roger Ebert is the one to sum this up perfectly. Sorry to bring everyone down, but here goes –
Image Courtesy
]