Verizon has launched a new, enhanced version of its Verizon Games portal and app. Based on feedback, Verizon says the new design caters to a more interactive experience.
Verizon describes the new experience as more game-like and more engaging. The company says it is designed to appeal not just to hard core gamers, but to first-time players as well.
"The early positive feedback from our test gamers has been overwhelming, and we've been looking forward to the opportunity to open up the new Verizon Games experience to all of our customers," said Jason Henderson, games product manager at Verizon. "With the new app and website, people will get the same unparalleled customer experience from their PC games service as they do from Verizon's TV, Internet and phone services."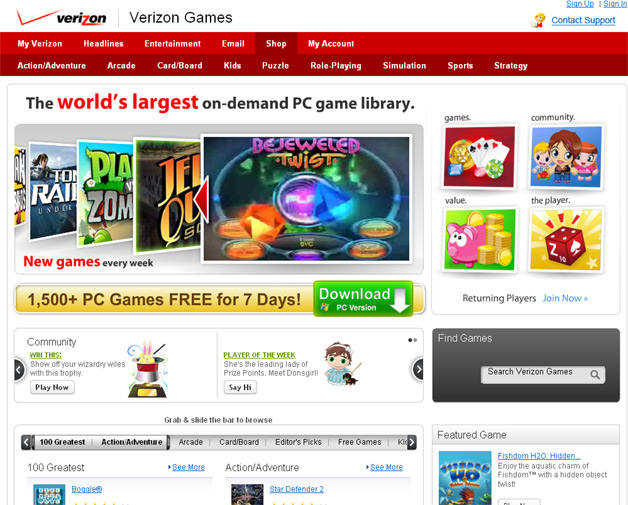 Verizon worked with digital entertainment media company Exent on the redesign. The firm specializes in marketing, merchandising, and broadband distribution of video games.
"The Verizon Games platform is the result of much end-user research," said Jason Akel, VP/general manager of Exent. "We are quite proud of the resulting interface, which is highly accessible to gamers of all types. At the same time, it was important to us that the interface emphasizes function over form so as not to distract from what the users are really there for — the world's largest catalog of PC downloadable games."
Verizon is giving new customers a 14-day free trial of the service, with unlimited access to all of the games it provides.