Don't let a pesky standoff with the police keep you from social media – Jason Valdez didn't.
The 36-year-old man from Salt Lake City, UT holed himself up in a motel room for 16 hours with what police call a hostage. During the standoff, Valdez made sure to let his Facebook friends know how it was going. He made six status updates from about 1:23 am to 9:25 am on June 18th, all while surrounded by SWAT teams.
Here is his first Facebook post, notifying his friends about his current predicament –

One minute later he posted "Sorry I meant to put opd…." a correction of "old." Valdez is referring to the Ogden Police Department
About forty minutes later, he posted this –
Valdez claimed that the girl with him inside the motel room was not a hostage, but with him willingly. He then posted photos of him with the girl inside the room. He captioned the one below "Got a cute 'HOSTAGE', huh?" From the photos, at least, she doesn't look to be under too much duress. But we all know a picture can be quite deceiving.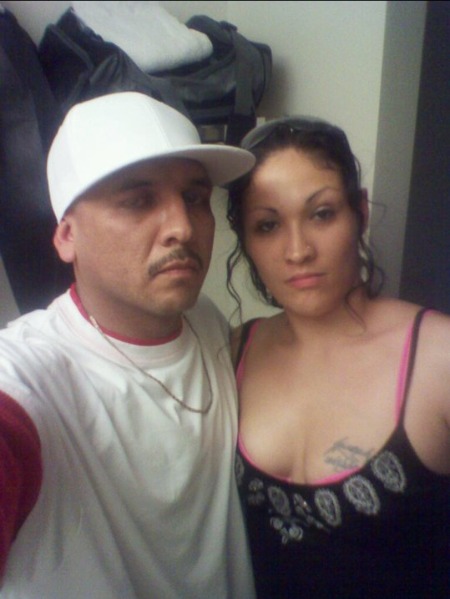 About 5 hours after posting the photos, Valdez said this –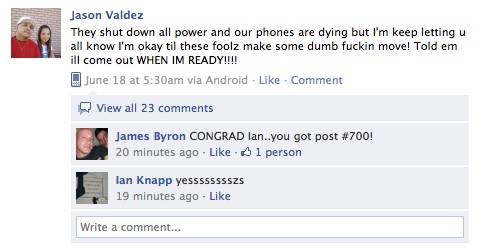 And then two hours after that, his final Facebook communication –

About an hour and a half after this post, police stormed the room. Valdez shot himself in the chest and is now in critical condition.
Some of his Facebook friends even tried to warn Valdez about police movements. Apparently one friend posted on his wall "gunner in the bushes stay low." That post has since been removed. Police haven't said whether or not they will consider this sort of action a crime. It could be seen as obstruction of justice I guess.
Valdez kept communication with the people posting on his wall as well. A girl identifying herself as his sister posted "I love you brother, get your head right and ten yrs, is not a thing, me and kids love you, be smart." Valdez replied "Love u always sis."
His wall is now mostly being used by friends to post get well messages and prayers. One friend has posted "Hey Jason, im praying for u. god is wit u. listen to him. much love."
One response to that post – "You friend is a retarded f*ck, kind regards from Norway."
Oh, Facebook.