After a year of "beta testing", a new version of Facebook questions rolled out yesterday.  Naturally, I had a ton of questions on how questions works and how brands may use questions on fan pages, which I'll uncover below.

How to Post a Question on Facebook?
Now fan pages have "Question" added for potential status updates. From here, the fan page can create a question and up to 10 poll options.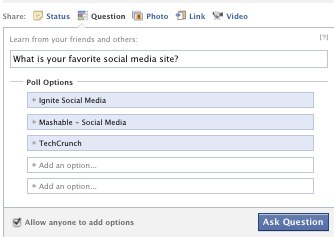 Before asking the question, fan page admins should take a moment to consider the small understated box that says "Allow anyone to add options".  Leaving this default box checked will allow anybody to add options to the question after the question is asked, which could be a moderation nightmare.
If this is left checked, the admin will have the ability to monitor and delete any offensive or off-topic options by selecting "edit options" on the poll itself (see screenshot below).  However, the question cannot be changed to restrict users from adding options after it is published with that setting.  Currently, the only way I see to reverse this default is to delete the question. So think before you ask the question.

What about Newsfeed Inclusions?
When a brand posts a question, it will show up on the fan page wall and fan newsfeeds like the following:

When a fan answers that question, this activity can show up in their friend's newsfeed in one of two ways (likely because Facebook is still testing). The first way it can appear is as an expanded poll: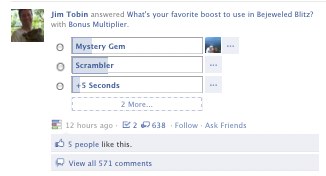 The other way it is showing up within newsfeeds is a more concise version like the following:

How Else are Questions Promoted?
After a user has answered a question, a small notification will be updated within the "Recent Activity" portion of that user's wall.

If a user uses the "Ask Friends" call out to invite other friends to weigh in on the question, those friends will see a notification of the question in the following way: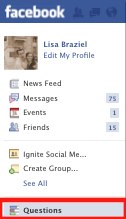 And, if I am that friend that asks my friend a question, I am reminded with yet another notification when they answer.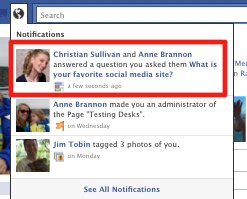 Why Should Brands Care?
The virality of questions and the prominence Facebook is placing within newsfeeds and notifications should capture the attention of brands with fan pages.  Questions are a utility specifically built not just to facilitate a fan page to ask a question to a base of their fans, but for that question to go a network beyond, and further if possible. This is an exciting engagement opportunity for branded pages to utilize.
This said, brands should approach questions with some degree of caution.  Before developing a question, the brand must consider if the message is appropriate not just for their fans, but more importantly their fans friends. In my opinion, this makes Questions more fitting for light hearted engagement opportunities than for more serious brand questions like "What could we improve about our product?".
What do you think of the new and improved Questions?
Originally published on Ignite Social Media