Update: eBay has now confirmed that it is true:
"Local commerce companies like Milo are blurring the lines between in-store and online shopping," said Mark Carges, chief technology officer and senior vice president, global products, eBay Marketplaces. "By making accurate, real-time, local store inventory and pricing available to online and mobile shoppers, we see a huge opportunity for local retailers, small businesses and eBay sellers to reach more buyers, and for consumers to make more informed buying decisions."

Carges continued, "Since eBay is an online marketplace and doesn't compete with brick-and-mortar stores, adding local store inventory to the eBay marketplace is a natural extension of what we've been doing for 15 years – bringing buyers and sellers together to access the largest selection available anywhere."
The terms were not disclosed, but some claim to have confirmed the $75 million price tag. Here's the release.
Original Article: eBay is acquiring Milo.com for $75 million according to a report from Silicon Alley Insider, which cites 2 unnamed sources. We've reached out to Milo for confirmation and will update accordingly.
WebProNews has covered Milo.com a couple times in the past. Back in September when Google announced it was making public its documentation for Local Shopping inventory for Google Merchant Center, Milo, based on a similar principle, reached out to us explaining that it was getting over a million unique visitors a month, and had tracked 2.8 million products. They also said they were growing by an average of 185,000 items per month, and had inventory data for over 50,000 stores, covering 30,000 communities nationwide.
Milo tells shoppers what's in stock, and lets them conduct research, while providing real-time updates of local stores' inventory and prices. It also gives users alerts, notifying them when a price falls or a product becomes available.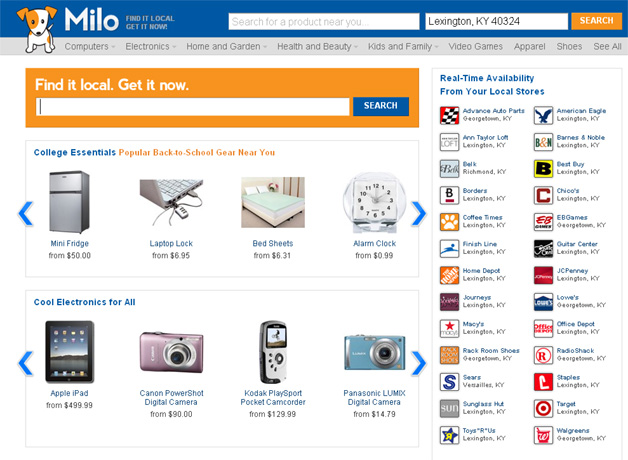 In late October, Milo launched an Android app, which uses geo-location technology to identify a user's location and return product results based on coordinates. "Because our users are top of mind, we knew that launching a Milo mobile app would be instrumental before the holiday shopping season—it's ideal for both the time-strapped and price-conscious shopper," said CEO Jack Abraham. "Say you see the perfect pair of fall boots walking down the street. We'll not only show you local stores that carry them, but we'll make sure they're available in the size and color you want, so you don't waste a trip. And we'll do the same for all those hot holiday toys that are just starting to hit—and fly off—your local store shelves."
"How does Milo fit with eBay?" the SAI report asks. "For starters, it plays in the same sandbox as Groupon, which Google is about to buy for $6 billion…Anything that allows small retailers to market online without having to build a Web site or make any cash outlays is hot in e-commerce these days."
"There's also some possible synergy with eBay's Red Laser mobile app, which allows people to take pictures of bar codes and get price comparisons," the report adds.
According to TechCrunch, Milo has raised about $5 million in venture capital.