Online retail spending in the UK reached $7.8 billion (5 billion) in July the most of any month this year according to IMRG Capegemini e-Retail Sales Index.
Brits spent an average of $126 per person online, marking a turning point since the lows of the last two years.
The Index has grown by 18% compared to last July, in the biggest annual jump for the month of July since before the recession in 2007. As retailer promotions drew shoppers online, an impressive growth rate of 14% was recorded compared to June.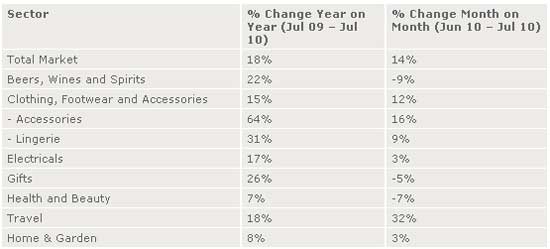 "Although online retail sales survived the recession more convincingly than high street sales, the last two years or so have no doubt been shaky at times," said Chris Webster, Vice President, Head of Retail Consulting and Technology, Capegemini.
"It is really encouraging to see growth levels returning to those seen pre-2007 and before consumer confidence was knocked by the financial crisis and recession. The stand-out result this month came from the travel sector, which was boosted by shoppers taking advantage of last minute deals to escape the disappointing summer."
The performance of retailers with a brick-and-mortar and am online presence continues to outperform that of online only retailers. Multichannel retailers experienced growth of 18 percent compared to last month, while online only retailers showed month on month growth of 8 percent. Multichannel retailers are also managing to convert more browsers into actual sales, with an average conversion rate of 4.49%, compared 4.35% for online only retailers.
"With over half of the UK population online at least once a day it is no surprise that online sales continue to grow impressively year on year," David Smith, Managing Director of IMRG.
"The evidence mounts that high street retailers will need to invest more in their online business and put it at the heart of their retail strategy. Online retailers, on the other hand, will need to continue to innovate as they strive to close the growth gap."