We knew it was coming. It was only a matter of when. Back in November, Twitter co-founder Biz Stone told a crowd at a conference in Malaysia that the current suggested users list would be going away, and that it would be replaced by something "more programmatically chosen, something that actually delivers more relevant suggestions." Twitter has now announced the reality of that new kind of suggested users list.
Originally the suggested users list was meant as a way to help new users, and it still is. The problem was that the list was static for everyone, and not all tastes are the same. Now the lists will be more tailored to users' specific preferences.
"Two of the biggest challenges for new users have been finding accounts to follow that appeal to their interests, and finding their friends and colleagues who tweet," says Josh Elman of Twitter's product team. "Over time, we've learned that by making suggestions of who to follow, we can help users get going more easily on Twitter. In our new design, we're taking some steps to continue to improve this process."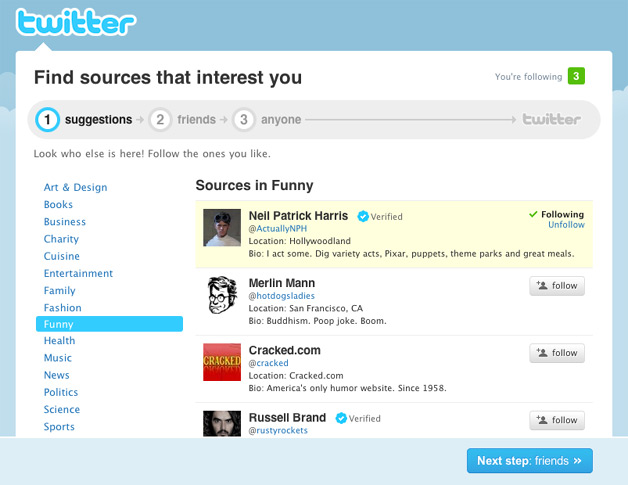 "We've created a number of algorithms to identify users across a variety of clusters who tweet actively and are engaged with their audiences," explains Elman. "These new algorithms help us group these active users into lists of users by interests. Rather than suggesting a random set of 20 users for a new user to follow, now we let users browse into the areas they are interested in and choose who they want to follow from these lists."
I should note that our own Twellow service has had a feature in place that provides suggested users on a personalized level for some time, so if you don't like who Twitter suggests (or if you just want to find others), you may want to consider checking that out.
Twitter says its lists will be refreshed frequently as the algorithm identifies new users who should be suggested. Others found to be less engaging may be removed. Twitter offers its own staff-picked list, and a special staff picks for Haiti list as well.
Related Articles:
> Easily Find Twitterers You're Interested In
> A Suggested Users List for Twitter That You Can Actually Use
> Twitter To Make Suggested Users Feature More Like Twellow's?