Active Twitter users are three times more likely to impact a brand's online reputation via Tweets, blog posts, articles and product reviews than the average consumer, according to a new survey by Exact Target.
"Consumers active on Twitter are clearly the most influential online," said Morgan Stewart, principal, ExactTarget's research and education group.
"What happens on Twitter doesn't stay on Twitter. While the number of active Twitter users is less than Facebook or email, the concentration of highly engaged and influential content creators is unrivaled-it's become the gathering place for content creators whose influence spills over into every other corner of the Internet."
Twitter users are the most influential online consumers – 72 percent publish blog posts at least monthly, 70 percent comment on blogs, 61 percent write at least one product review monthly and 61 percent comment on news sites.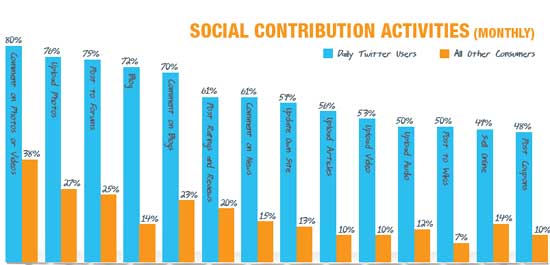 Daily Twitter users are 6 times more likely to publish articles, five times more likely to post blogs, seven times more likely to post to Wikis and three times more likely to post product reviews at least monthly compared to non-Twitter users.
Nearly a quarter (23%) of online consumers read Twitter updates at least monthly and 11 percent read Twitter updates but do not have an account.
Other highlights include:
20 percent of consumers indicate they have followed a brand in order to interact with the company – more than become email subscribers or Facebook fans for interaction.
Men are more than twice as likely as women to follow brands on Twitter to interact with the company (29 percent compared to 13 percent).
Nine out of the 10 most common motivations for consumers to follow a brand on Twitter involve consumers seeking information from a company.