Twitter has begun rolling out a "Suggestions for You" feature that helps users find people to follow. You may be familiar with a similar feature on Facebook.
"With more than a hundred million users on Twitter, there are sure to be at least dozens of accounts out there that will reflect your interests. The trouble is finding all of them," the company says.
Twitter's suggestions utilize algorithms based on factors like people you follow and the people they follow. The suggestions can be found on Twitter.com and the "Find People" section. Of course you can click "follow" to follow those Twitter suggests for you. If you're not interested, you can click "hide" and they won't show you that suggestion again.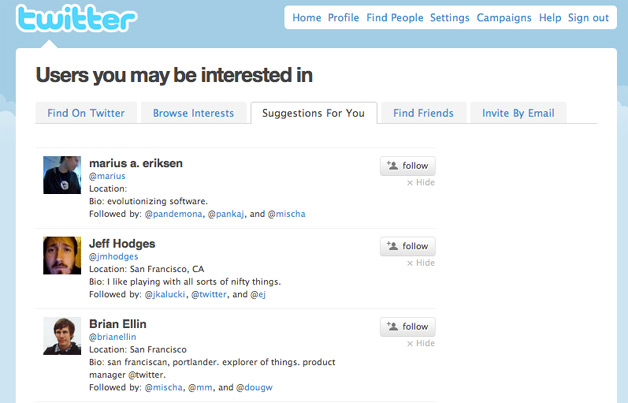 Twitter is also launching a feature that shows you "similar" users when you view other people's accounts. Both new features will be available in third-party apps, as Twitter is launching an API.
If you don't mind a shameless plug, I might suggest just using Twellow to find people of interest by category or location. If you're looking to find interesting people to follow, that can help big time, and you can look for people yourself rather than relying on who Twitter thinks you'd be interested in. Mashable included it in its top 20 Sites to Improve Your Twitter Experience as one of two in the discovery category.