You know those candy hearts everybody has around Valentine's Day with the little sayings on them? Showing just how much of a stronghold Twitter actually has on pop culture, this year, one such saying that will appear on these candies is "Tweet me."

NECCO, the company that makes Sweethearts announced today that this (and "Text Me") were among the top user-generated choices for sayings to appear on the hearts this year. In the past, they have said things like "Fax me" and "Email me." Twitter hasn't exactly toppled email, but is "all the rage" right now to say the least.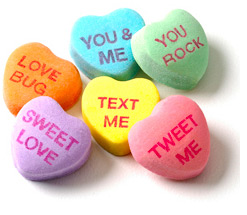 I can't figure out if this is better marketing for NECCO or for Twitter. On the one hand, you will have the increased exposure of the tweeting culture to a wide candy-hungry audience (which will likely include some who have absolutely no idea what tweeting is referring to), and on the other, you will have a generation of Twitterers possibly considering Sweethearts over circus peanuts the next time they go to buy candy. I guess it's a win-win. Sweethearts are also coming in new colors and flavors.
"Sweethearts have long been America's favorite Valentine's Day candy for sharing a sweet sentiment with loved ones," said Jackie Hague, vice president of marketing at NECCO. "The new tastier flavors, vibrant colors and modern expressions will ensure that Sweethearts continue to delight people of all ages and help them say something sweet to those they care about."
"It's great that America chose 'Tweet Me' to be a new Sweethearts saying," said Biz Stone, co-founder of Twitter, Inc. "Twitter is a new way to communicate in 140 characters or less and Sweethearts have been helping people communicate using short phrases for decades."
There is also an iPhone App that works with a user's Twitter account and allows them to personalize up to five Sweethearts with up to 25-character messages on each. These digital Sweethearts can then be sent to prospective Valentines.

Related Articles:
> How Google Rates Links From Facebook And Twitter
> Is It OK To Say No To Twitter?