It's a good thing Twitter obtained new headquarters in October of last year, or else employees would probably be compelled to stack their cubicles and/or do sardine imitations at this point. A Twitter VP announced this afternoon that the company now has 205 employees, and that fact indicates a whole lot of hiring has been taking place.
Sean Garrett, Twitter's vice president of communications (who himself just started in February), provided the current figure and a little context with the tweet you can see below.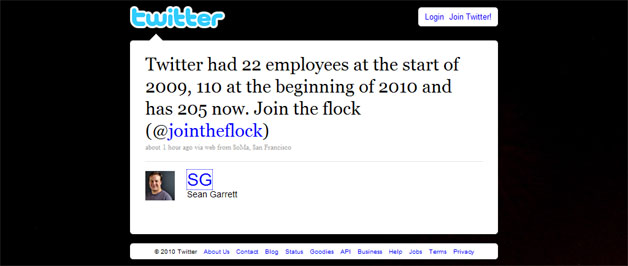 Pull out your calculator, input those numbers, and then you'll then discover Twitter's employee count has grown by about 86 percent in the last six months, and by a whopping 932 percent since the beginning of last year.
That's quite impressive (assuming the company's finances are doing okay, and there haven't been any hints otherwise). It looks like the aggressive growth rate is set to continue, too, given Garrett's promotion of the @jointheflock Twitter account.
A hat tip goes to MG Siegler, in any event, and we look forward to seeing how long it is before Twitter needs to start looking for new places to put employees again.