Twitter CEO Evan Williams revealed some numbers about Twitter usage
on the company blog
, while talking about how the Twitter ecosystem (of third-party developers and apps) continues to play an important role in the company's success.
Twitter has over 145 million registered users
, he says.
Not that this is a surprise by any means, but mobile is also playing an increasingly important role. "Total mobile users has jumped 62 percent since mid-April, and, remarkably, 16 percent of all new users to Twitter start on mobile now, as opposed to the five percent before we launched our first Twitter-branded mobile client,"
says
Williams. "As we had hoped in April, these clients are bringing more people into Twitter, and, even better, they are attracting and retaining active users. Indeed, 46 percent of active users make mobile a regular part of their Twitter experience."
Speaking of mobile, it has been confirmed that Twitter is testing push notifications for its iPhone app. MG Siegler
shares
a statement from the company: We've been testing push notifications internally. When we launched Twitter for iPad, there was a configuration error that caused us to offer push messages to a small set of users. We've stopped sending push messages, but users may see an option to turn on push until we release an updated version of the app. So, push isn't ready yet but we look forward to rolling this out soon.
Williams provided the following chart of applications showing how people are actually using Twitter: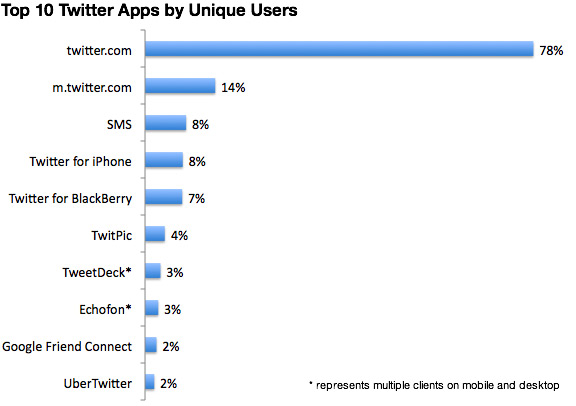 "And, while the percentage of overall users drops off pretty sharply after the few listed here, there are a tremendous number of other apps that people are using, not necessarily as their main Twitter client, but as an alternative way to create or view Tweets," Williams says. "The number of registered OAuth applications is now at almost 300,000—this number has nearly tripled since Chirp. (This can include multiple instances of the same software.)"
Willimas spoke last night in San Francisco. Liz Gannes has a summary of what he had to say, which was mostly about how Twitter is diferent than email and Google, but Willimas also hinted at some upcoming features.
Gannes
reports
, "Williams also said to expect forthcoming products that would help filter relevant tweets around events, similar to what it's doing with location. This would go beyond the user-developed convention of hashtags, he said, though he didn't elaborate."
The biggest thing Twitter has done to reduce noise since its launch has been the launch of lists. This has helped significantly, but I think Twitter users will gladly accept other ways to accomplish this.