Thanks to the Olympics, hockey sticks are easy to see this time of year, showing up during the actual games, on morning shows, and on talk shows. One's sort of shown up in a graph of Twitter's growth, too, as the number of tweets per day has been increasing at an impressive rate.
Kevin Weil, a member of the Twitter analytics team, explained late yesterday on the site's official blog that the following stats do not include tweets from spam accounts. Also, the stats correspond to original tweets, not tweet deliveries, which tie in to how many followers people have.
He then stated, "Folks were tweeting 5,000 times a day in 2007. By 2008, that number was 300,000, and by 2009 it had grown to 2.5 million per day. Tweets grew 1,400% last year to 35 million per day."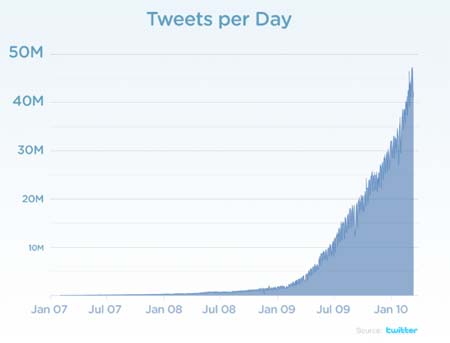 As for the current rate, Weil continued, "Today, we are seeing 50 million tweets per day – that's an average of 600 tweets per second."
There isn't any sign of a slowdown occurring, either.
NBC execs must be more than a little jealous of this popularity.