Twitter has just released an impressive statistic on their blog, one that shows the company on a massive upswing. As of June, halfway through the year, Twitter is reporting 200 million tweets per day.
200 million. That's a staggering figure, especially considering just a year ago they announced 65 million tweets per day. In January of 2009, the company announced that users were sending 2 million tweets per day. What was an impressive milestone then pales in comparison to this newest achievement. It also suggests a more exponential rather than linear growth in the social media site.
Along with this announcement, Twitter has provided a visualization of just what 200 million tweets would look like, in real life. They say that 200 million tweets equals a 10 million page book. This book, written every day, would take 31 years to read. The book would be as tall as 8.163 copies of Tolstoy's War and Peace, or 1,470 feet.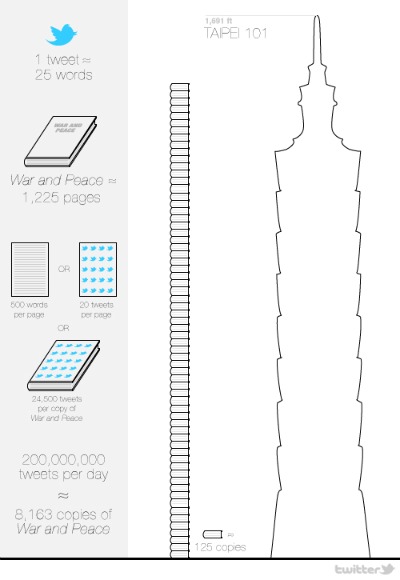 In the blog post, Twitter has also provided us with a list of the most trending topics of the first half of 2011. They prove that the world is a bunch on Rebecca Black-loving fools.
World events/News
AH1N1 – Swine Flu
Mubarak – former Egyptian President
Easter – Christian holiday
Cairo – capital of Egypt
#prayforjapan – sentiment following the March earthquake and tsunami
Chernobyl – site of nuclear disaster in 1986
Libia/Libya – site of an ongoing civil war
Fukushima – Japanese nuclear power plant
William & Kate – Newly-named Duke and Duchess of Cambridge
Gadafi – Libyan political leader
Pop culture
Rebecca Black – pop singer
Femme Fatale – newly-released Britney Spears album
Charlie Sheen – actor
#tigerblood – hashtag popularized by Charlie Sheen
Nate Dogg – rapper
Anderson Silva – Brazilian mixed martial artist
Tom & Jerry – famous cartoon
Mumford & Sons – British rock band
Bieber alert – referring to artist Justin Bieber
Queen Gaga – referring to artist Lady Gaga
Of course, the only problem with the 200 million tweet figure is the question of original tweets. Twitter is full of bots who send out automated tweets. Do these factor in the 200 million? Also, does that number include retweets?
Even with these questions, it's obvious that Twitter is growing fast. ComScore says that Twitter.com alone received 139 million unique visitors worldwide in May of this year. That's a 54% increase year-over-year.
Twitter seems to have run into a little trouble, however, as it is being reported that they have been targeted by the Federal Trade Commission.